The bleakness of the north-south divide has been laid bare in new research showing people living in the north of England have a greater risk of dying early than those in the south.
The Longer Lives website from Public Health England ranks local authorities using a traffic light system, ranging from red for the worst areas to green for the best.
There is a clear north/south divide in the statistics, which show the number of people under the age of 75 who died over a two-year period, with Health Secretary Jeremy Hunt describing it as a "shocking variation".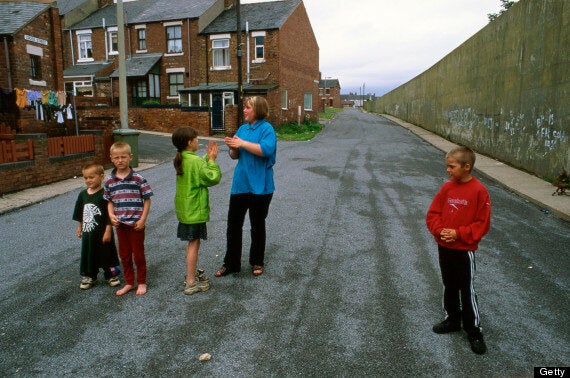 Children playing in street of the former mining town of Easington, County Durham
The research seems to confirm the findings of past research into the devastating north-south divide.
In the new research, Manchester and Blackpool are the two local authorities that recorded the worst results for specific causes of death highlighted by Public Health England - heart disease and stroke, cancer, liver disease and lung disease.
Manchester also has the worst overall level of early death.
Hunt said: "This shocking variation in early and unnecessary deaths means people's lives are needlessly cut short and that cannot continue unchecked.
"I want areas to use the data released today to identify local public health challenges like smoking, drinking and obesity and to take action to help achieve our ambition for saving 30,000 lives a year by 2020."
In Manchester, there were 455 premature deaths per 100,000 people from 2009 to 2011. The region has the highest death rate from cancer in the country, with 152 deaths per 100,000 people recorded, as well as from heart disease and stroke, with 116 deaths per 100,000 people.
Blackpool has the highest rates for liver and lung disease, with 39 and 62 premature deaths per 100,000 respectively in that time.
Wokingham has the lowest overall premature mortality rate with 200 such deaths in the same period, making it the best in the list of 150 local authorities.
It is also the best region for heart disease and stroke, with the lowest number of deaths - 40 per 100,000 from 2009 to 2011.
Professor John Newton, chief knowledge officer at Public Health England, said it was "urgent" that something is done about the "health inequalities" in England.
"The message for local authorities is that there are a large number of people dying before they should and that there are things that can be done," he said.
There are 103,000 avoidable early deaths in England each year, according to Public Health England, with the four major killers identified being responsible for 75% of those deaths.
That places it as seventh out of 17 European countries for men and 15th for women - a figure that "must improve", Professor Newton added. Recent figures show the situation is improving however, with overall premature death rates coming down, he added.
Prof Newton said: "What we are doing is providing information that is hard hitting and sometimes challenging but is presented in a form that is accessible and easy to understand."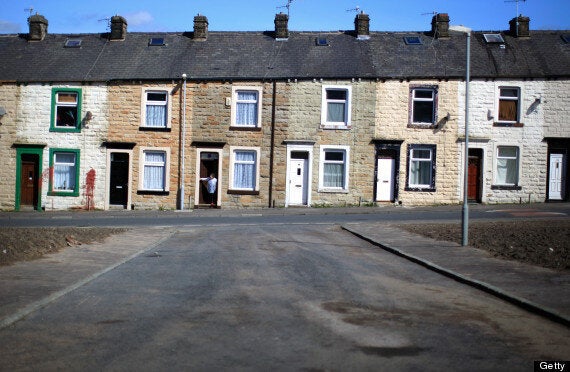 A local stands in the doorway of their home in a terraced street in Burnley, Lancashire
Longer Lives, which launches Tuesday, groups areas with similar levels of deprivation so that local authorities can see how they are doing compared with others of a similar socio-economic status.
The peer ranking shows that Rotherham and Redcar and Cleveland are doing well among the most deprived areas, while Bracknell and Central Bedfordshire have some of the highest rates of early death in the least deprived areas.
Professor Kevin Fenton, PHE's director of health and wellbeing, said he hoped the site would spark a "national debate" on tackling premature deaths - rather than worry those living in areas given a red traffic light rating.
"We hope that it will be a good thing - with greater public engagement in health, and the health of their local authority," he added.
Under the NHS reforms, local councils have been given new responsibilities to enhance public health in their catchment areas.
The new website aims to give them information about the current situation in their region so health funding can be spent where it is most needed, Public Health England said.
The only two local authorities in England not to be included in the statistics are the City of London and Isles of Scilly, as they are too small for levels of premature mortality to be properly calculated.
While Public Health England said Longer Lives is primarily targeting local authorities, it also includes advice on how individuals can reduce their risk of developing serious conditions.
The data will be updated quarterly, with the website expanded in future to include other causes of death.
The figures have come from the Public Health Outcomes Framework, and are being published on the site alongside guidance from the National Institute for Health and Clinical Excellence and NHS Choices.
Councillor Zoe Patrick, chairwoman of the Local Government Association's community wellbeing board, said: "The Longer Lives tool will provide some useful insight into the serious public health challenges facing councils and help us identify local priorities.
"But this data must be used with caution. Using it out of context to create any sort of national league table dangerously oversimplifies matters and ignores the very complex socio-economic and cultural factors that affect the premature mortality rate.
"Attempts to measure performance and rank councils in this way are therefore deeply troubling. Not to mention that improving the public's health is not the sole responsibility of local government.
"We need to work with our partners in the NHS, PHE and central government to address a whole range of inequalities and issues in order to help everyone lead healthier lives."