American intelligence officials were overheard discussing how the key players in the US data-gathering scandal could be "disappeared", it has been claimed.
Steve Clemons, a policy analyst and editor at large of The Atlantic, said he overheard the conversation while waiting for a flight at Dulles airport in Washington.
The source of the NSA story has now been revealed as 29-year-old Edward Snowden, an American IT administration worker.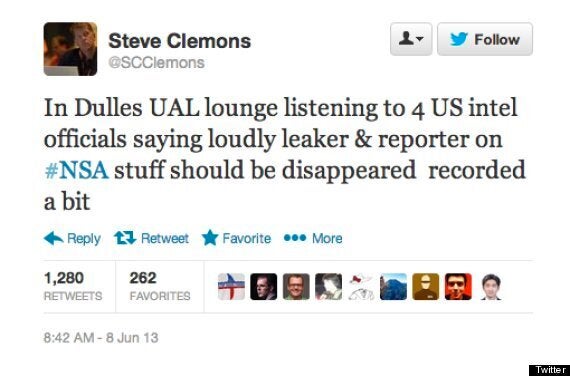 According to Clemons, four men sitting near him at the airport were discussing an intelligence conference they had just attended, and turned to the topic of the National Security Agency leaks.
One said that both the reporter and leaker should be "disappeared," a term used to describe secret murders and abductions carried out by authoritarian governments.
Clemons said on Twitter the suggestion seemed to be "bravado" and a "disturbing joke." He said that the officials were talking loudly, "almost bragging."
The Huffington Post USA asked Clemons via Twitter how he could be sure they were in the intelligence community and he noted that "one wore a white knit national counterterrorism center shirt."
Snowden told The Guardian: "I have no intention of hiding who I am because I know I have done nothing wrong."