A dramatic rise in children living in poverty-stricken working families has alarmed campaigners, with the government urged to take actions by charities.
Two out of three children living in poverty, 66%, are now from working families. This has risen from 43% in 1996-1997 and and amounts to 1.5 million children, according to analysis of the figures by the Resolution Foundation.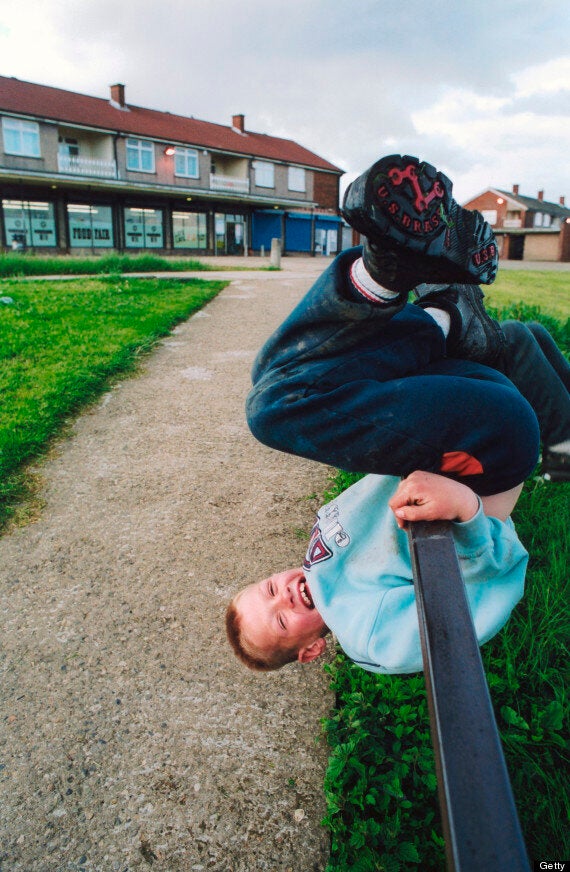 A boy plays next to shops on run-down estate in Bradford, Yorkshire
The proportion of children in poverty from working families has risen sharply since the start of the financial crisis in 2008.
Poverty is calculated by households living with less than 60% of median average disposable income, compiled by the Department for Work and Pensions.
But statistics have been skewed because of the fall in wages. If the number was calculated using average household income from the previous year, the number of children in poverty rises by 300,000.
Oxfam called the figures "unacceptable" for the seventh richest country on the planet, and warned that people living in absolute poverty was likely to increase with further cuts.
Barnardo's chief executive Anne Marie Carrie said the Government was "clearly failing to protect those UK families who live at the tipping point between hardship and crisis."
"It is alarming to see the dramatic leap in the numbers of single parents who are in work but still trapped in poverty, with one in three children whose single parent works part-time below the poverty line," Fiona Weir, chief executive of single-parent charity Gingerbread said.
"Government claims that work is the best route out of poverty are simply not ringing true."
Matthew Whittaker, senior economist at the Resolution Foundation, said: "If we are serious about tackling poverty, it is no longer enough to focus on reducing the number of workless households - crucial though that is. We also need to focus on low pay and on making it easier and more worthwhile for both members of a couple to work. "
The Government has a legal responsibility, under the Child Poverty Act passed in the final weeks of Gordon Brown's administration in 2010, to reduce relative child poverty to below 10% by 2020.
But Work and Pensions Secretary Iain Duncan Smith has voiced frustration with the the methods used to define poverty, and launched a consultation last year to draw up new ''meaningful and accurate'' measures to replace ''arbitrary'' household income targets.
Today's figures, show 5.6 million working age adults and 1.9 million pensioners were in relative poverty, based on last year's average incomes.
Anita Tiessen, deputy executive director of children's charity Unicef UK said: "The number of children living in poverty in the UK is likely to be even higher than the Government's statistics suggest.
"In the time period covered by today's figures, major austerity measures - like cuts to council tax benefit and the introduction of the bedroom tax - had not yet come into force, so this data does not reflect their probable harmful impact on children's well-being.
"We are calling on ministers to take urgent action to prioritise the needs of children and their families and to tackle the scandal of child poverty in the forthcoming spending review."
The DWP said that the number of children classed as living in absolute poverty increased by 300,000 last year, "due to incomes not increasing as fast as inflation, which was very high and is now coming down".
Duncan Smith said: "Despite paying out £170 billion in tax credits alone, the previous Government failed to meet their target to halve child poverty by 2010 and far too many children were left behind. They were fixated by moving someone from one pound below the poverty line to one pound above, without any substantive effect on their lives.
"While this Government is committed to eradicating child poverty, we want to take a new approach by finding the source of the problem and tackling that.
"We have successfully protected the poorest from falling behind and seen a reduction of 100,000 children in workless poor families. Our welfare reform programme will further increase work incentives.
"Today's figures underline the need for better measures of child poverty that are not so heavily dependent on where we draw the poverty line. Our new approach with wider measures is not designed to hide the scale of child poverty in this country, but to make clear the real challenge we face so we can start dealing with it properly."