Luke Donald returns to Merion today in the lead of the 113th US Open as playing partner Lee Westwood looks to recover from a unique stroke of bad luck.
Donald birdied the 11th, 12th and 13th before play in the first round was suspended for the day due to darkness after two delays for bad weather totalling more than four and a quarter hours.
That gave the world number six a one-shot lead over five-time US Open runner-up Phil Mickelson, who had completed an opening 67 to set the clubhouse target, with Belgium's Nicolas Colsaerts (69) the only other player to complete a sub-par round. Westwood had been sharing the lead - until Donald's late scoring burst - when his third shot to the par-four 12th clattered into one of the wicker baskets used at Merion instead of a standard flag and rebounded back off the front of the green.
That led to a double-bogey six and left Westwood one under par ahead of the scheduled 7:15am restart on Friday morning, while Rory McIlroy was level par, Masters champion Adam Scott three under and Tiger Woods two over through 11 holes.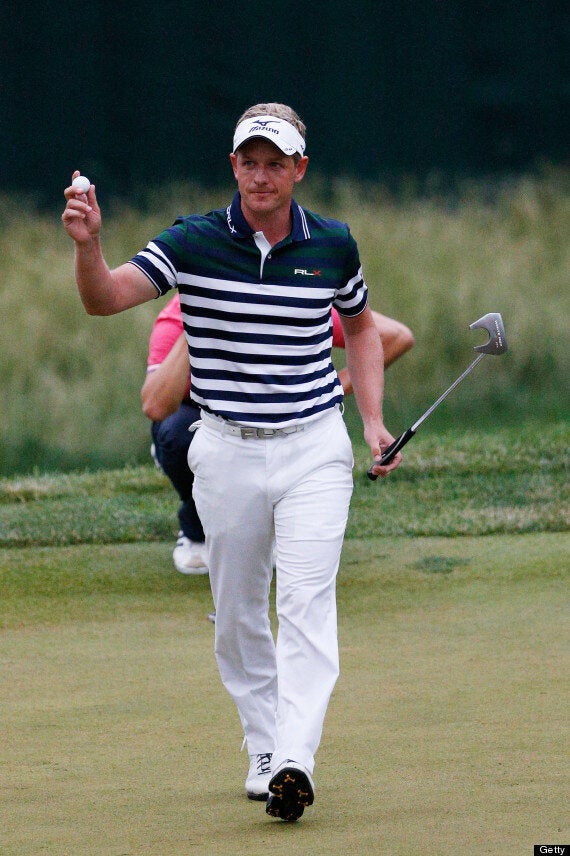 Donald is yet to win a major despite four top five finishes
Mickelson had flown home to California on Monday after torrential rain saw the course closed in mid-afternoon, and then attended his daughter's eighth-grade graduation on Wednesday evening before flying back in time for his 7:11am tee time on Thursday morning.
He landed in Philadelphia at 3:30am in his private jet and was at the course at 5:40am, only to start his round from the 11th with a three-putt bogey. However, he birdied the 13th and was level par when a thunderstorm and torrential rain caused play to be suspended for more than three and a half hours, and when it did resume the four-time major winner picked up birdies at the first, seventh and ninth to card an opening three-under-par 67.
Mickelson's daughter Amanda was born the day after his first second place in the US Open at Pinehurst in 1999, where he wore a pager on the course during the final round in case his wife went into labour.
He revealed she knew "a little bit" about her part in the drama and that she had quoted Ron Burgundy from the film Anchorman in her speech at the graduation ceremony.
"She told me stay, it's the US Open, I know how much you care about it," said Mickelson, who has five wedges but no driver in his bag this week. "And I told her that I want to be there.
"She did a great job and she even quoted Ron Burgundy, so it was funny. The ceremony was at 6pm. I got on the plane at 8pm, landed 3:30am. I had a couple of hours sleep on the plane, an hour before we teed off and an hour during the break. I feel great."
Popular in the Community