Thousands of Muslims will hear a hard-hitting sermon condemning sex grooming in mosques at the end of June, emphasising strict Koranic messages on respect and morality.
The message, known as a Khutba, could be heard in as many as 500 mosques across Britain, with 50 imans already agreeing to preach the sermon.
The sermon was drafted by Imam and Bradford council Respect councillor Alyas Karmani, according to the Bradford Telegraph and Argus, opening with a reminder that the Koran "forbids sexual indecency, wickedness and oppression of others – He admonishes you that you may take heed."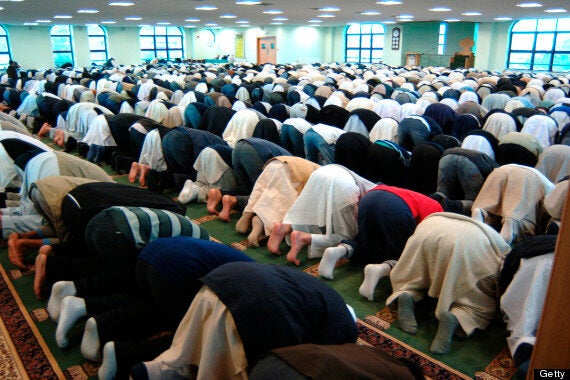 Muslims pray at a mosque in Bradford (file photo)
The sermon continues: "Allah commands us to undertake all matters to the highest standard of excellence.
"As Muslims we are commanded to be just, fair and shun evil, wrongdoing and all forms of indecent and immoral behaviour.
"Failure to remember and act on this results in the society that we are part of declining in social and moral terms.
"Addressing every man today, I will speak to you of sexual grooming.
"There has been a lot in the news recently about men of Pakistani and South Asian background in Derby, Rochdale, Telford, Oxford and West Yorkshire who have been convicted of this evil and wicked crime.
"These incidents have been extremely evil and have included, kidnapping, trafficking of children as young as 11 for sexual purposes, intoxication, getting 12-year-old girls to take heroin, physical assaults and sexual assaults on boys.
"These actions are reprehensible and we condemn those involved and support the victims who are innocent children.
"Islam is a religion of mercy and compassion and places a strong obligation on safeguarding and protecting the weak and vulnerable from abuse – particularly women and children."
It is not the only initiative aimed at tackling street grooming, in the wake of horrific cases of abuse in Rochdale, Derby, and most recently, Oxford.
Next Thursday, the Muslim Council of Britain will host a London conference called 'Protecting All Our Children: Tackling Grooming, Safeguarding Children In All Communities', with imams, politicians and child protection experts scheduled to attend.
The MCB said in a statement: "Grooming of children and child abuse are crimes that afflict all sections of our society; they need to be eradicated. Any attempt to stigmatise certain communities is unhelpful. Nevertheless, these problems do exist in Muslim communities and it requires a collective and robust response."
Among those attending will be Nasima Patel, executive director of the NSPCC, leaders of MCB, Muslim charities and community groups.
Sheikh Ibrahim Mogra, of the MCB, has previously called on imams to use sermons to urge Muslims to report anyone they suspected of grooming and abuse.