The co-founder of online marketplace notonthehighstreet.com said childcare issues continued to hamper women in business as she was recognised with an MBE.
Mother-of-two Sophie Cornish launched the internet company seven years ago from her kitchen table with fellow entrepreneur Holly Tucker, 35, and the firm now supports more than 3,500 of Britain's small businesses.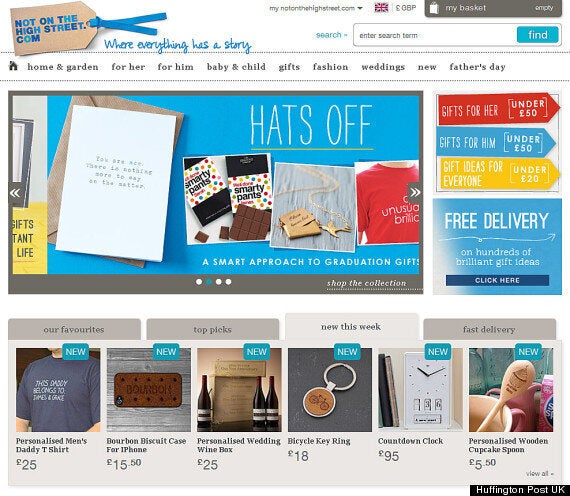 Notonthehighstreet.com provides a market place for firms to sell their goods online
The pair spoke of their delight as they were honoured for their work but called for more support for women who struggle to pursue their careers while raising children.
Mrs Cornish, 47, said "so much more" could still be done to support small firms in Britain.
"I think it's so important," she said.
"They are phenomenal, these businesses, they truly are the backbone of the economy and the shining lights of this country and we've tried to do our bit but we really need to make sure everybody is making sure that they are truly showcased in the way that they should be.
"A lot of it is about financial support. I am personally very conscious that 95% of our businesses are women.
"For us, when we launched and indeed for many of them, the greatest issue is simply childcare.
"Amazing entrepreneurs with amazing ideas being hampered by such a basic practicality seems crazy."
Mrs Cornish said launching the web business was "not easy" but added: "You do the best you can, there is no real work-life balance, of course there isn't, but I think it's about making sure you're comfortable with the way you're doing it, knowing that you are doing it for the right reasons, for your family and your business, and then get on with it."
The entrepreneur, who lives in Teddington, west London, with her husband Simon, 47, and children Ollie, 16, and Honor, 14, described her accolade as a "testament" to the company's small business partners.
She added: "It was a highly emotional moment when I received my letter, not least because when I ran upstairs to show my husband, his eyes welled up with tears.
"It really is a dream come true and we are so particularly touched to be recognised in this way.
"We have always felt so privileged to have the best job in the world, growing our company and championing small businesses across Britain and abroad.
"Seven years ago, when we launched notonthehighstreet.com, we hardly dared imagine that we would now be supporting over 3,500 small businesses."
The two women were honoured for services to small businesses and entrepreneurs.
Notonthehighstreet.com provides a market place for firms to sell their goods online. Its customers are predominantly women and the vast majority of companies on the website are run by women.
Popular in the Community