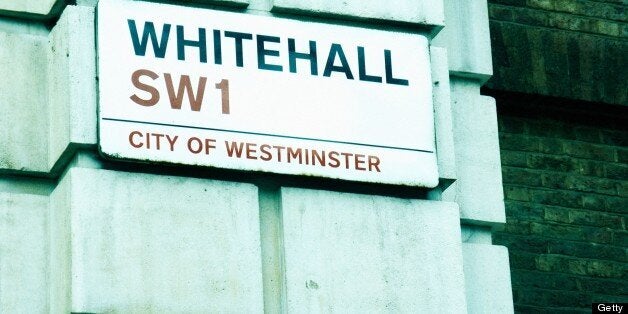 The Prime Minister should be given the power to appoint the most senior civil servants who run Whitehall departments, a Government-commissioned report recommended.
The IPPR think-tank said Cabinet ministers should also be able to appoint an "extended office" of staff who work directly for them comprising political advisers and non-partisan outside experts as well as career civil servants.
The proposals are intended to make officials more accountable and responsive to ministers without undermining the fundamental commitment to a non-partisan, merit-based Civil Service.
They are likely, nevertheless, to prove highly contentious and provoke fresh accusations that ministers are trying to politicise Whitehall.
Under the IPPR plan, the recruitment process for permanent secretaries who run government departments would still be overseen by the independent Civil Service Commission which would be responsible for drawing up a short list of suitable candidates.
However the final selection would be made by the Prime Minister who, the report argues, is the person best placed to pick the key personnel who are needed to ensure the successful delivery of his political programme.
The successful candidates would be given fixed-term four-year contracts which would be renewable depending on performance.
More generally, the report recommends that all senior officials responsible for the delivery of major government programmes should be made personally accountable to the relevant Commons select committees in their own right and not just as spokespeople for their minister.
The findings are based on a study of civil services in a number of comparable countries including Australia, New Zealand and Canada.
IPPR director Nick Pearce said: "Our recommendations represent measured and incremental changes to the way Whitehall currently works. They would strengthen the accountability of senior officials and improve ministerial confidence in the Civil Service.
"Crucially they build on - and pose no risk to - the core traditions of the UK Civil Service. They sit well with current Whitehall practice, and could be easily implemented."
Cabinet Office Minister Francis Maude, who commissioned the report, welcomed the proposals, describing them as "evolutionary" and saying they went "with the grain of our Westminster system".
"We are rightly proud of so much that our Civil Service does. But it would be arrogant to assume that there is nothing we can learn from how other countries do things," he said.
"I welcome this report which makes an important contribution to the debate. We will consider it carefully as we formulate the next steps of our reform programme for the Civil Service."
Popular in the Community