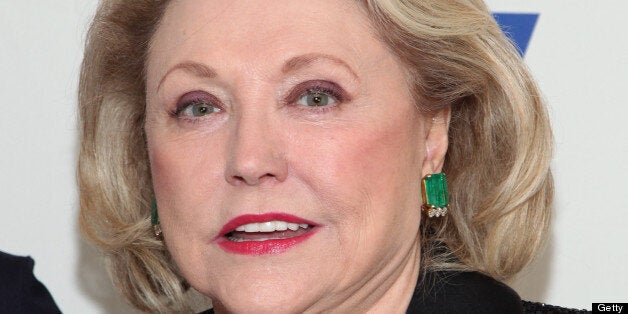 Her first novel, A Woman Of Substance, was a bestseller about a woman who didn't spend her time getting spanked, but rather went through hell and back and still managed her own business empire. So if anyone is in a position to pass judgement on 50 Shades of Grey, it's Barbara Taylor Bradford. The sado-masochistic book which divides opinion to say the least, has received a right drubbing from the 80-year old novelist, who has published 28 books (25 of which have been made into TV programmes)and built a £200 million fortune.
The sex scenes are witheringly described to the Radio Times as "repetitive and not sexy" and that when protagonist Anastasia Steele "has her bottom smacked with a whip it's the end of the book, except her saying, 'Holy cow!' in excitement."
We've long since thought that Babs is brilliant, from the moment we flicked through A Woman of Substance for rude bits aged 13, to actually properly reading the thing and coming across passages like this:
"We are each the authors of our own lives, Emma. We live in what we have created. There is no way to shift the blame and no one else to accept the accolades."
However, we do take a bit of offense to her slightly Samantha Brick-like statement to the Radio Times: "Some women can be a bit devious, especially if you're successful. They're jealous and envious, although they'd be afraid to display that with me. I'd punch them in the face."
Watch out, EL James. You might need Christian Grey's riding crop to protect you!
Tell us your thoughts on 50 Shades of Grey...