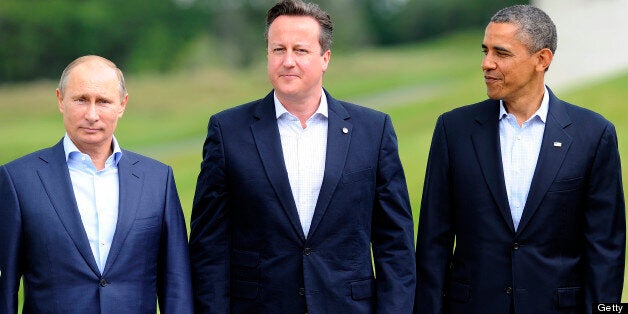 David Cameron has insisted the G8 summit in Northern Ireland has produced a unified plan for peace in Syria, despite world leaders dodging the question of the future of president Assad.
Speaking at a press conference at the conclusion of the two-day conference, the prime minister said Assad had "blood on his hands" and insisted it was "unthinkable" the dictator could play any part in the nation's future.
"If that can happen that opens the way to a genuine transition to a genuine Syria free from Assad, free from terror. That is what we have agreed to work towards and I think that is an important step forward," he said.
Cameron again insisted no decision had yet been made over whether the UK would arm the rebels, but said lifting the arms embargo had been important to "send a message".
However after resistance from Russia, the statement itself makes no reference to the future of president Bashar Assad, saying only that a transitional government must be formed "by mutual consent" between the different sides of Syrian society.
The statement, released at the end of the two-day Lough Erne summit, also makes clear that Syria's military and security forces will be allowed to remain intact following a transition of power.
The provision was being seen as a signal to Assad's senior officers that there may be a future for them in a democratic Syria if they act now to eject the president.
Tensions over Syria have dominated the G8 gathering, which took place in the wake of an announcement by Barack Obama that the US was ready to arm the rebels seeking to oust Assad, despite bitter opposition from Russia's president Vladimir Putin.
In a high-stakes discussion over dinner last night, Putin agreed to sign up to detailed language about the future governance arrangements for Syria, but refused to endorse any statement that the G8 saw no place for Assad in it.
The chief communique states that the G8 nations - the UK, US, France, Germany, Italy, Canada, Japan and Russia - are "committed to achieving a political solution to the crisis based on a vision for a united, inclusive and democratic Syria".
It endorses plans to restart peace talks in Geneva "as soon as possible" and says that they should begin with both sides agreeing on "a transitional governing body with full executive powers, formed by mutual consent".
Crucially, the document says that Syria's public services must be "preserved or restored" under future arrangements, adding: "This includes the military forces and security services".
It continues: "However, all governmental institutions and state offices must perform according to professional and human rights standards, operating under a top leadership that inspires public confidence, under the control of the transitional governing body."
The G8 leaders also confirmed that they are making almost 1.5 billion US dollars available in additional funding for humanitarian operations in Syria and its neighbouring countries.
They said they were "deeply concerned by the growing threat from terrorism and extremism in Syria" and by the increasingly sectarian nature of the conflict.
They called on both the regime and Opposition forces to "destroy and expel from Syria all organisations and individuals affiliated to al Qaida and any other non state actors linked to terrorism".
The communique condemned any use of chemical weapons in Syria, but was silent on US and UK claims that evidence shows Assad has already used nerve gas Sarin on his own people, something which Moscow has disputed.
Related