WikiLeaks founder Julian Assange will not leave the Ecuadorian Embassy in London even if sex allegation against him are dropped, because he fears moves are already under way to extradite him to the United States, he revealed on Wednesday.
The disclosure was made on the first anniversary of his arrival at the embassy in a bid to avoid being sent to the US to be quizzed about the leaking of sensitive information to his whistle-blowing website.
He claimed there was a sealed indictment already lodged at a grand jury in the US which would lead to him being taken from Britain if he ever steps outside the embassy.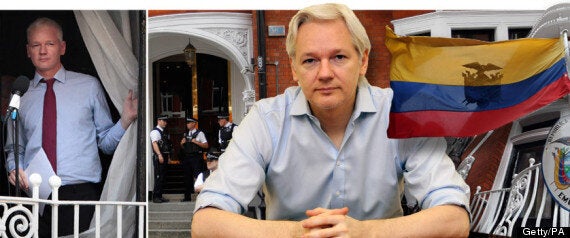 Assange has said he is prepared to stay in the embassy for five years
The Australian suddenly arrived at the elegant building, in London's exclusive Knightsbridge area, on 19 June a year ago, following attempts to extradite him to Sweden, where he faces allegations of sexual assault against two women - allegations he has always denied.
Speaking for over an hour to a small group of news agencies, including the Press Association, Assange disclosed for the first time that even if the sex allegations were cleared up without him having to travel to Sweden, he fears being arrested.
"The strong view of my US lawyer is that there is already a sealed indictment which means I would be arrested, unless the British Government gave information or guarantees that would grant me safe passage.
"We know there is an ongoing investigation in the US and we know I am a target of the Federal grand jury. There is a 99.97% chance that I will be indicted.
"So if the Swedish government drops their request (to go to Sweden) tomorrow, I still cannot leave the embassy.
"My lawyers have advised me I should not leave the Embassy because of the risk of arrest and extradition to the US."
Assange, who was granted political asylum last year by the Ecuadorian Government, has kept up a strict work regime inside the embassy, and recently announced plans to stand in the Australian elections in September as a WikiLeaks candidate.
Asked if he regretted seeking asylum at the embassy because of the ensuing stalemate over his future, he replied: "Strategically it has been exactly what I hoped for."
He said he was under house arrest for almost 600 days as he fought extradition to Sweden, having to wear an electronic tag on his ankle and reporting regularly to the police.
"It is less stressful in the embassy," he said, although he admitted there could be long-term physical problems to staying indoors for so long.
"You can get rickets by not having any sunlight - it is not healthy to be in this position."
But he brushed off reports that he had been ill in recent months, describing health stories about him as "lung gate".
He said he worked for up to 17 hours a day inside a room at the rear of the embassy, and took regular exercise, adding that it took "diligence" to stay healthy.
WikiLeaks was involved in several court cases, including the high profile trial of former US army intelligence private Bradley Manning, Assange's own case, the banking blockade against donations to the website, as well as now fighting to win a seat in the Australian Parliament, he said.
"Why do people have this crazy idea that I have time on my hands?"
Assange said the block by finance firms including MasterCard, Visa and Bank of America, had stopped 95% of WikiLeaks's revenue over the past two and a half years, worth around £34 million.
He launched a fresh attack on the UK government's handling of his case, saying it was in breach of international law over the treatment of political refugees.
"The government argues it is legally bound to extradite me, even though I have not been charged with anything. It is legally bound, under higher laws which it has acceded to, as part of its United Nations obligations, to accept the transfer of political refugees to the country which granted asylum.
"That the UK government chooses to ignore its obligations under international law and instead favour an interpretation of EU law is, of course, political."
Assange said he believed when he first arrived at the embassy that it could take between six months and two years to resolve his case - a timescale he believes still remains.
His case had become one of prestige for the UK government, as well as Sweden and the US, leading to a "geo-political stand-off".
"My case could be swiftly resolved if Sweden were to guarantee that I would not be extradited to the US or if the British government would guarantee to veto any such extradition to the US.
"While I remain hopeful that a diplomatic solution can be reached, or that the Swedish and US authorities will cease their pursuit of me, it remains the case that it is highly unlikely that Sweden or the UK will ever publicly say no to the US in this matter."
Opinion polls in Australia were showing 26% support for Assange's bid to win a seat in September's general election, rising to 40% among younger voters, he said.
Ecuador's foreign minister, Ricardo Patino, made a brief visit to the UK this week, chatting with Assange until 4am on Monday before meeting with Foreign Secretary William Hague.
The two ministers agreed to set up a working party of legal officials to study how the deadlock could be broken, with Patino stressing that Ecuador stood by its decision to give Assange diplomatic protection.
"We hope Assange will not grow old and die in our embassy," he added.
Meanwhile, the Metropolitan Police revealed that the estimated cost of policing the Ecuadorian embassy between June 2012 and end of May 2013 was £3.8 million.
Popular in the Community