WikiLeaks founder Julian Assange has been inside the Ecuadorian embassy in London for a year after his dramatic arrival to seek refuge in a bid to avoid being deported to Sweden to face sex-related charges.
Here are some of the events which led up to his dramatic arrival, and the continued stalemate over his future: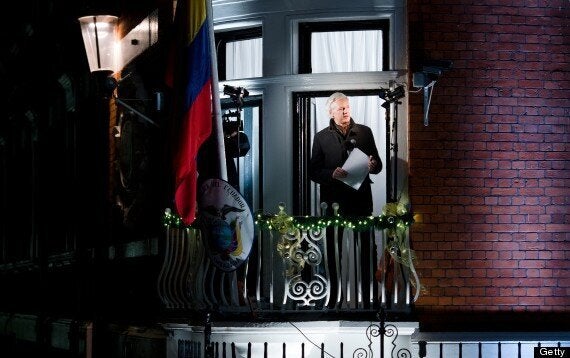 Assange making a speech from the Ecuadorian embassy
The Australian set up WikiLeaks in 2006, publishing confidential documents and images.
In 2009, Bradley Manning, a United States Army Intelligence Private, allegedly contacted Mr Assange and is later accused of leaking classified information.
In 2010 Manning is charged with leaking secret diplomatic cables and is held in prison in the US.
Also in 2010, Mr Assange was detained in the UK after the Swedish authorities issued an international arrest warrant over allegations of sexual assault against two women in Stockholm - allegations he has always denied.
He spent months fighting extradition to Sweden, being held under house arrest.
In May 2012, Britain's Supreme Court ruled that he should be extradited to Sweden to face questioning.
His QC said Mr Assange was considering an application for the case to be reopened, as he was given 14 days to consider the judgment.
On June 19, 2012, Mr Assange arrived at the Ecuadorian embassy in Knightsbridge, central London, seeking political asylum, sparking interest from media outlets across the world.
The embassy, close to Harrods, was besieged by TV crews, journalists and scores of Mr Assange's supporters, as well as dozens of Metropolitan police officers.
The police have since maintained a round-the-clock presence, at a cost of around £3.8 million.
Mr Assange argued that the allegations against him were politically motivated and he fears being extradited to the United States if he travels to Sweden.
He remained inside the embassy throughout 2012, and in August was granted political asylum by Ecuador.
In the same month he made a brief appearance on the balcony to address his supporters - the first time time he had been seen in public since he arrived at the embassy.
In November, Mr Assange revealed that a block on processing donations by credit card companies to WikiLeaks had cost the whistle-blowing website over £30 million, with staff having to take a 40% pay cut as a result. He described the block as an economic ''death penalty'' after the European Commission (EC) said it was unlikely to have violated EU anti-trust rules.
He made a second appearance from the balcony in December, saying that the ''door is open'' for talks to break the deadlock over his campaign to avoid extradition to Sweden.
In January this year, Mr Assange hit out at a Hollywood film about his organisation as a ''massive propaganda attack''.
Delivering a speech to the Oxford Union, from a room inside the embassy, he revealed he had acquired a script of the film, which stars British actor Benedict Cumberbatch. Holding a copy of the script, he said the film, being released in the US in November, was also an attack on Iran.
In April of this year, WikiLeaks published more than 1.7 million United States records covering diplomatic or intelligence reports on every country in the world. Much of the work was carried out by Mr Assange during his time in the embassy.
In the same month, the Ecuadorian government reiterated its offer to Swedish prosecutors to interview Mr Assange inside the embassy, an offer which was turned down.
To mark the anniversary, Mr Assange gave an interview to a small number of news agencies, including the Press Association, in which he revealed fears that he would be extradited to the US even if the two Swedish women dropped their claims.
He claimed there was a sealed indictment in the US which would lead to his arrest if he sets foot outside the embassy.
On Sunday, Ecuador's foreign minister, Ricardo Patino visited the UK and chatted with Mr Assange until 4am on Monday morning.
On Monday, he held a 45-minute meeting with Foreign Secretary William Hague, in which the two agreed to set up a working party of legal officials to examine ways of breaking the deadlock.
Patino confirmed that Ana Alban, Ecuador's ambassador to the UK, is to leave her post and return to Ecuador, although he denied any suggestion that it was linked to the Assange case.
Popular in the Community