Ukip leader Nigel Farage has said he is "greatly looking forward" to visiting Scotland today, one month after his attempt to visit Edinburgh saw him take refuge in a pub from a group of angry protesters.
In a comment piece for the Herald Scotland, the MEP said the appearance of his party seemed to "galvanise reaction", before taking a swipe at the "feral, baying mob of subsidised students" he said attacked him last time he travelled north of the border.
Farage was sealed inside the Canon Gait pub last May for his own safety after angry demonstrators from Radical Independence Edinburgh shouted "Go home!" and "You can stick your Union Jack up your a*se!"
In his article published on Tuesday, Farage lambasted the protesters and argues that Scottish independence would lead to a "bankrupt, starving Scotland."
He also claimed that David Cameron has accepted that the Conservative Party is now "finished" in Scotland. Nigel Farage on his ill-fated trip to the capital
He wrote: "It was notable that when David Cameron visited Scotland recently he did not bother with Aberdeen. It seems that, to him, the Tories are finished north of the Border.
"Aberdeen is as much a part of my country as Axminster, Aberystwyth or Antrim," he added. Some said being locked in a pub was hardly a punishment for Farage
The protest in Scotland was organised by Radical Independence Edinburgh who told the Huffington Post UK at the time: "Farage came up to Scotland to spread his racism and bigotry here - we showed he's not welcome.
"His party UKIP have always achieved a derisory vote in Scotland but Farage thought that could change after their recent local elections successes in England.
"In 2014 we finally have the chance to get rid of the political system at Westminster that pours fuel onto the bigoted fire of Farage and UKIP. Scotland wants to be a country that welcomes immigrants - but we need independence to make that desire a reality."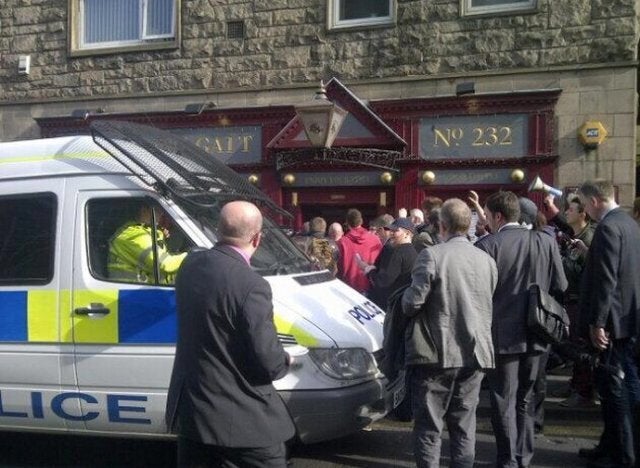 Pictures of the protest were posted on social media
Mr Farage is visiting Aberdeen to support Ukip candidate Otto Inglis in the Donside by-election for the Scottish Parliament.
At the weekend a new poll suggested support for Ukip has faded just a month after a surge of popularity for the party in last month's council elections.
Nigel Farage's party dropped from an 18% spike during the election period to 12% in the new poll by ICM Research for The Guardian, although it is still three points above its previous highs.