Two companies which appear in BBC3 series The Call Centre have been issued with fines totalling close to a quarter of a million pounds for nuisance calls, the Information Commissioner's Office (ICO) has said.
Nationwide Energy Services has received a penalty of £125,000, while We Claim You Gain has been hit with a £100,000 fine. Both companies are part of Save Britain Money Ltd, based in Swansea.
The penalties include the first one issued against a company linked to nuisance calls relating to payment protection insurance (PPI), the ICO added.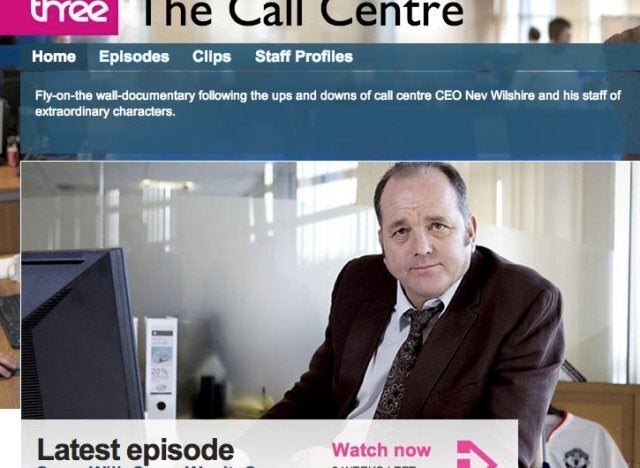 The Call Centre follows the ups and downs of staff at the third largest call centre in Wales.
The companies feature in fly-on-the wall docu-soap The Call Centre, which follows the ups and downs of chief executive Nev Wilshire and his staff at the third largest call centre in Wales.
Mr Wilshire has been likened by some to David Brent, Ricky Gervais's character from sitcom The Office - so much so that Gervais has even commented on their similarities on Twitter.
ICO director of operations Simon Entwisle said: "While the activities of Nev and his call centre employees have provided entertainment for many, they hide a bigger problem within the cold-calling industry.
"People have the legal right not to receive marketing calls and these companies have paid the price for failing to respect people's wishes."
Penalties were issued after the companies were found to be responsible for more than 2,700 complaints to the Telephone Preference Service (TPS) or reports to the ICO using its online survey, between May 26 2011 and the end of last December.
Neither company carried out adequate checks to see whether the people they were calling had registered with the TPS, which is a legal requirement under rules governing electronic marketing, the ICO said.
The ICO has now issued penalties totalling more than three-quarters of a million pounds to companies that have breached these regulations, while a further 10 investigations are going on.
Mr Entwisle continued: "We'd like to see it made easier for us to issue penalties to companies who are breaking the rules.
Similarly, everyone involved seems to agree that the rules on how consumers give their consent to receive calls needs to be clearer."
The ICO has set up an online reporting tool which people can use to send details of any unwanted marketing texts and calls.
The ICO has received more than 200,000 responses since the survey was set up in March last year.
Which? executive director Richard Lloyd said: "Thousands of people have told us they are sick and tired of being bombarded with nuisance calls and texts, so it's good to see the Information Commissioner's Office doing more to punish companies who are breaking the rules.
"Given the scale of this problem, it's time for the government and telecoms providers to step in too, with new laws and new technology to tackle this scourge on people's everyday lives.
"The ICO and other regulators must be given more power to properly police how our personal data is used, so we can call time on nuisance calls and texts."