Moors Murderer Ian Brady remains "chronically psychotic" and should remain in a hospital setting for treatment, his mental health tribunal has heard.
The child killer suffers from long-term paranoid schizophrenia which does not "just fade away and die", according to the clinician in charge of his care at high security Ashworth Hospital in Merseyside.
Brady, 75, was constantly paranoid about the Home Office and the Prison Officers Association, and believed hospital staff were acting as their agents.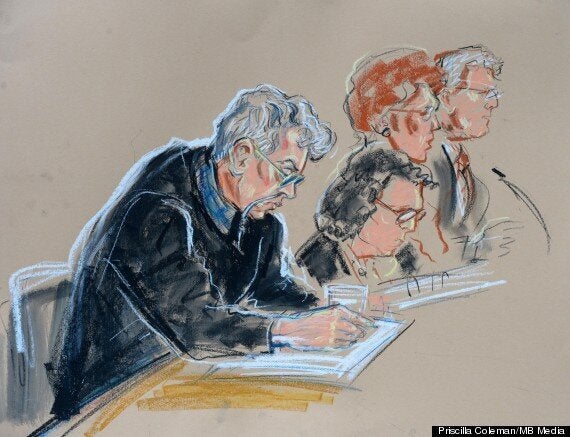 Ian Brady appeared in court via videolink
His wish that he could "send cancer in an envelope" to one doctor was one example of anger which was the driving force for his paranoia, a panel sitting at the hospital was told.
Giving evidence, Dr James Collins said Brady also had paranoid beliefs about fellow patients who he thought were spying on him.
He wrongly believed that others were out "to get at him" and he responded by spilling shredded oats cereal outside one man's door and smearing the chair of another with jam and honey. The tribunal is the first time in decades that Brady has been seen in public
But Dr Collins said he was not aware that Brady was paranoid before he was jailed for life in 1966 for murdering five youngsters in the 1960s, burying their bodies on Saddleworth Moor above Manchester.
He said he had managed to hold down a relationship with his partner in crime, Myra Hindley, a job and "sideline work" as a pornography dealer when he was a young man.
He was transferred to Ashworth Hospital in 1985 after previously displaying psychotic symptoms since 1967.
Dr Collins said he believed his illness is "clearly still active".
"He is better, much better and able to control it (the illness) but his life is still severely handicapped by his disorder, his mental illness," he said.
"He is acting like someone who is chronically psychotic."
An expert witness called by Brady's legal team had previously told the panel that Brady was not suffering from schizophrenia but from a severe personality disorder which could be handled in prison.
The murderer, who has been on hunger strike since 1999 and is force-fed through a tube, claims he has faked psychotic episodes in the past.
Brady has said he wants to end his life in prison where he could not be force-fed.
Popular in the Community