England boss Roy Hodgson fears he will be denied crucial preparation time ahead of this autumn's World Cup qualifiers after the Premier League opted not to take into account his views on the new fixture list.
Hodgson met with Premier League bosses to plead for the teams who make up the bulk of his squad not to be given high-profile matches immediately before international breaks in September and October.
Instead, Hodgson discovered Arsenal will face Tottenham and Liverpool entertain Manchester United on the last weekend in August, immediately before England face Moldova and a vital trip to Ukraine on 10 September.
This has left Hodgson wondering whether the meeting was a waste of time, amid fears of injuries in such high-octane games.
Premier League insiders have questioned what the fuss is all about, wondering why players would be more at risk of fitness issues against one opponent than another.
However, it seems Hodgson's point was more related to the likelihood of teams playing on the Sunday, rather than the Saturday.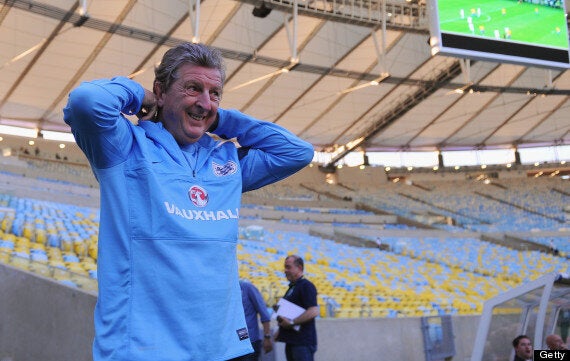 Hodgson is concerned the fixtures could hamper England's preparations
As local police would almost certainly not sanction a Saturday evening kick-off for either fixture on safety grounds, it seems certain at least one of the games will be switched to the Sunday, with Tottenham almost certainly requesting it anyway due to their Europa League qualifier the previous Thursday.
This means that instead of being able to hold a full training session at Burton on the Monday ahead of that Moldova encounter five days' later, Hodgson will have a number of players missing.
Depending on recovery time, it could be as late as the Wednesday before England have a full session, which is hardly ideal, even against opponents as limited as Moldova.
Although the situation is not quite as bad in October - when England face Montenegro and Poland at Wembley - the fact Manchester United, Chelsea and Arsenal are all away from home, and Manchester City tackle Everton in a north-west derby, the chances are a couple of those games will be switched to the Sunday as well.
And before the November dates when any play-off matches will be held, Manchester United are due to entertain Arsenal, with Tottenham facing Newcastle in another eye-catching fixture.
England are presently two points adrift of Montenegro in Group H, but are now only two points ahead of Ukraine, who face minnows San Marino in two of their final four fixtures.