Footage of the greatest sledging incidents is scarce so we should be grateful that Glenn McGrath and Ramnaresh Sarwan's almighty tiff is enjoying a happy life on the internet.
This is one of the most memorable verbal bouts not necessarily for the quips but because of just how heated it got. McGrath visibly lost it with the West Indian batsman who obeyed Ron Burgundy's code of leaving the mothers out of it, but brought the wife into it.
McGrath, at 6ft 5ins and as belligerent as the great Australian sledgers, was as snarling as he was brilliant. Unlike Merv Hughes, he could complement his derogatory remarks with world-class deliveries and was rarely humiliated by an opponent.
In the 2003 Antigua Test match, McGrath's attempted yorker in the final ball of an over was blocked by Sarwan for a single. Running to the other end of the crease, Sarwan's path was briefly halted by McGrath, who appeared to take exception to something Sarwan said.
The peerless Tony Cozier's commentary gives some background to the exchange dating back to a Port of Spain Test when Stuart McGill asked Sarwan whether he could run around him.
Back in Antigua, McGrath, one to say "boo" to a goose, returned for more after McGill bowled his over and deliberately moved into Sarwan's path again.
Hilariously, Fox Sports' graphic then screens Sarwan's strengths and weaknesses. Under weaknesses are "No sense of restraint" and "Gets rattled in verbal contests". Their timing was as impeccable as one of his shots.
With McGrath steaming in, Sarwan began playing it safe, and the first insult was captured.
"Pussy," McGrath remarked at Sarwan.
Now into the third over, of sparring McGrath attempted to play on Sarwan's penchant for getting out by hooking, only he is hooked for four.
The following ball McGrath pretended to throw the ball at Sarwan's wicket after a dot, causing the batsman to animatedly duck for cover.
"Pussy," is the put-down. Again. And then, just like in Anchorman, things really escalated.
"What does Brian Lara's dick taste like?" McGrath asked Sarwan at the over's conclusion.
"I don't know. Ask your wife," was the unimaginative reply.
"If you ever f*****g mention my wife again I'll f*****g rip your f*****g throat out!" McGrath screamed.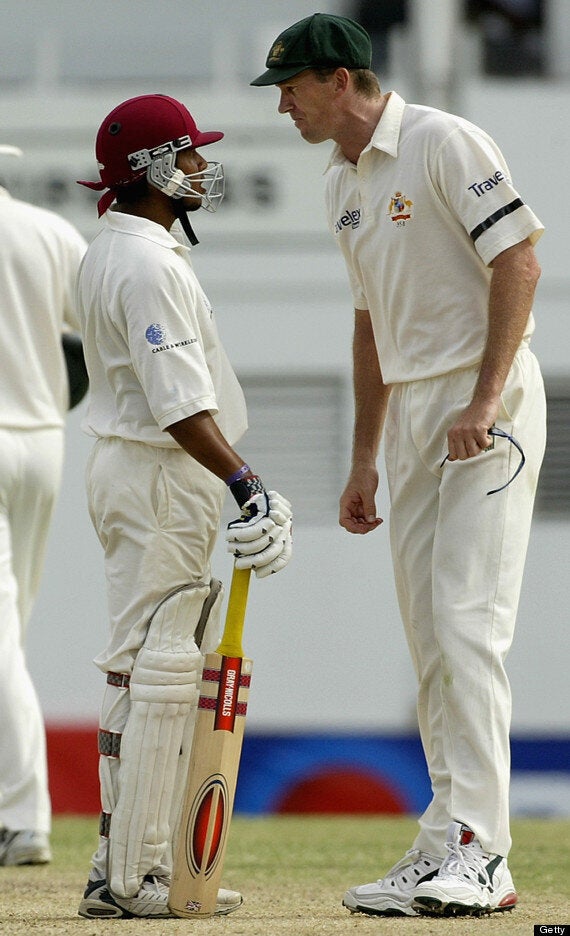 This was a level above sledging now, as loveable umpire David Shepherd was summoned by McGrath, whose wife was undergoing treatment for cancer. Justin Langer and Adam Gilchrist also took umbrage with Sarwan's reply.
McGrath's wife had been unflatteringly but cheekily mentioned once before during some trash-talk by Eddo Brandes, but the tension between her husband and Sarwan had intensified to the point of mutual loathing.
His sunglasses back on, McGrath looked as lethal as the Terminator, only angrier. Breathing heavily and fuelled by adrenaline, had the umpires not been present he might well have ripped Sarwan's f*****g throat out. Jason Gillespie was brought on instead of McGrath after McGill returned and the great seamer was moved away from the boundary, where partisan West Indians heckled him mercilessly.
Jane McGrath tragically died from cancer aged 42 in 2008 but, along with her husband, formed the McGrath Foundation in 2002, which raises money to fund McGrath Breast Care Nurses in communities across Australia.
Popular in the Community