The Voice coach Will.i.am has branded the final result of the show "so sad" and "unexplainable" - adding that he was "perplexed" by the public vote.
Partially sighted Andrea Begley, 27, from County Tyrone, was crowned the winner of the BBC show , beating hot favourite and fellow Northern Ireland contestant Leah McFall, who was on Will.i.am's team. Not long after Andrea was announced as the winner of a major record deal, the Twitter-loving coach tweeted: "You should feel the audiences vibration in the room tonigh after the publics vote...its #unexplainable...so sad...#perplexed."
He quickly followed it with a second tweet: "Andrea is amazing...#dontGETmeWRONG...but we know who has the incredible #voice."
Moments before the final announcement, coach Jessie J - whose act Matt Henry was the first to be knocked out of the final - said: "In my opinion Leah is the winner."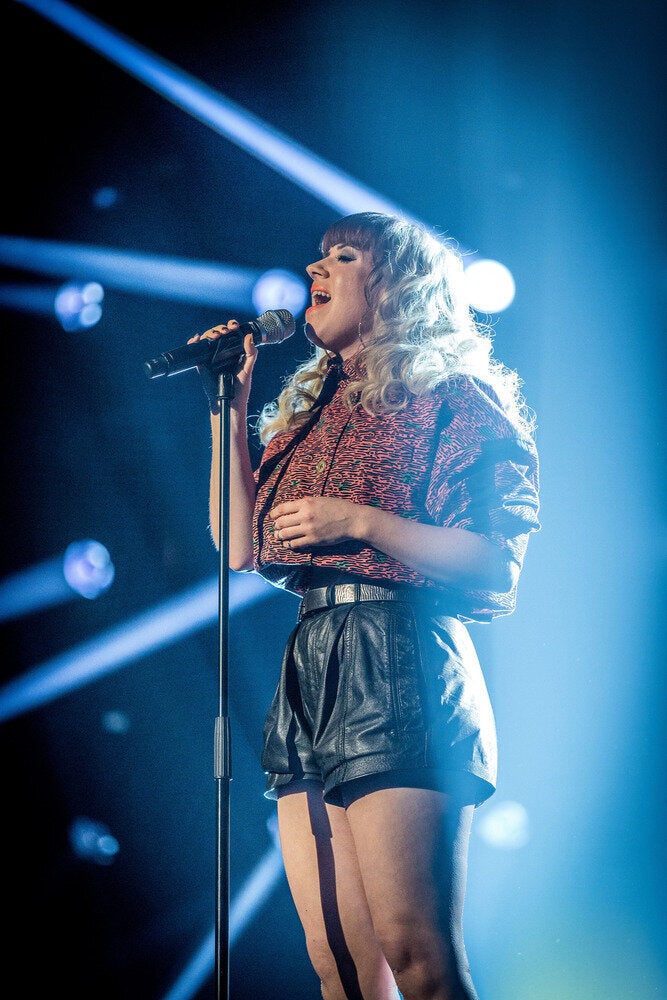 The Voice final
But it was civil servant Andrea, who has 10% vision, who was named as the 2013 winner and victor of the second series, also beating country crooner Mike Ward.
"I actually can't speak," she said, looking shocked.
The singer, who hails from the village of Pomeroy and was described as an inspiration by her coach Danny O'Donoghue from The Script, promised fans she would do her utmost to build on her win.
"Hopefully I'll try my best to put your vote to good use and be a success," she said.
In the run-up to tonight's show, Andrea said being partially sighted might help her in the final.
The winning singer has had to memorise the lyrics to her song choices because she cannot read them off a monitor during the show.
But she said she wanted to be judged by her music, adding: ''That's the way I expect the industry to take me, on the basis of what I do musically.''
The singer joked that her lack of vision helps in some ways.
She said: ''It sounds awful but I don't have to look at everybody and sometimes that can be a good thing if they don't look that happy to listen to me."
Will.i.am spoke out this week, saying the latest series of the talent show would be ''pointless'' unless it produced a real star.
He said he wanted to produce an act to ''get people dizzy''.
He said: ''These shows render themselves pointless if they can't identify something that's going to be on the radio and that's just me being part of the show. So we spend all this time looking for somebody and they aren't on the radio?
''In my opinion, after the show is finished everyone should be scrambling, just like they were scrambling to find the next singer, just to make sure the person who won has a chance, has a shot, at the radio. Because that's what the premise is - the premise isn't just a record deal, the premise is a career.
''After last year I take that stuff too serious and personal especially if I'm there on TV saying, 'you know we're going to fight for you and you need to be on my team'. So after you win or lose what are you doing?
''Was it just a crock of bull because your back was turned and you turned around and, boom, a camera is on you and you've got to say what you've got to say to look all nice and pretty.
''I ain't one of those guys, these are people's freaking dreams and aspirations.''
It was his Belfast girl Leah he was backing as the winner.
After her performance of I Will Always Love You, famously performed by Whitney Houston, he said: "My heart was in the back of my back."
Tom Jones said she is "a freak, but in the best possible way", and added: "She goes to places only dogs can hear."
Winning coach O'Donoghue said she has a "God-given gift".
But it was Andrea who pulled in the most votes, and throughout the final she too enjoyed high praise from the coaches.
After her rendition of My Immortal, O'Donoghue said: "There wasn't one hair on my body that wasn't standing up."
When asked what he thought of the star, Jones said: "She has a beautiful sound. Very emotional."
Will.i.am was transfixed by Andrea, describing her style as "calming, soothing, a great escape".
During the grand final, the 2013 victor took to the stage with The Script and performed their hit Hall Of Fame, which she said was "such an honour" and "such a privilege".
Andrea received rapturous response when she returned to her home village earlier this week, quipping: "Never mind being blind, I'll be deaf by the end of this."
Last year's winner, Leanne Mitchell, has flopped.
Her debut single did not reach the top 40, while her album recently missed out on the top 100.
Did the right person win The Voice? Let us know in the comments below.
Popular in the Community