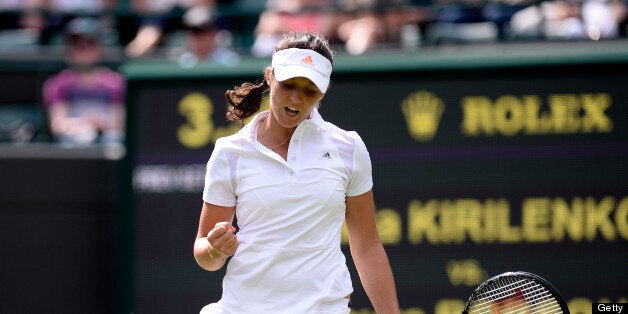 Laura Robson kept the British flag flying in the women's draw at Wimbledon with a virtuoso straight-sets defeat of number 10 seed Maria Kirilenko.
British number two Robson dismissed Russian Kirilenko 6-4 6- on No.1 Court to add to her array of impressive scalps since her Olympic silver medal in the mixed doubles.
Kirilenko joined Kim Clijsters, Li Na, Petra Kvitova and Venus Williams in the Brit's collection of conquests after a forlorn display.
The 19-year-old's serve - often a weakness - was potent in the opening set as she delivered four aces and Kirilenko was granted not a single break point opportunity.
While the support was a fraction of the vociferous following she enjoyed at SW19 during last year's Olympics, Robson excelled, striking the ball truly and capitalising on Kirilenko's nerves late in the first set.
Her confidence was further illustrated in the second when she broke her opponent in the third game, striking a forceful forehand for the winner. A quarter-finalist at the Australian and French, as well as SW19, Kirilenko appeared resigned to a drubbing.
Robson initially squandered three break points for a 4-1 lead - with Kirilenko holding after five attempts to produce a serve on one hold - before putting the Russian out of her misery to go within two games of taking the match.
World number 10 Kirilenko belatedly responded with a break the following game and Robson's rhythm briefly deserted her. However she swiftly recovered for an outstanding victory.