Everyday services like street lights, road repairs and bin collections are facing the deepest cuts since the Second World War, experts have said.
Council leaders warned budgets would be "stretched to breaking point", while a leading Liberal Democrat said poorer areas would be hit hardest.
Osborne warned that local councils would have to make "the kind of sacrifices central government is making", with the local government budget to be reduced by 10 per cent in 2015-16.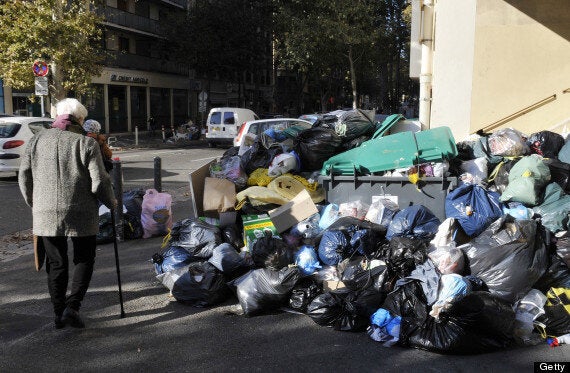 Refuse collection will be hit by the cuts
Labour claimed poorer areas were being hit the hardest:
There is little dispute that hard-up councils have lost a larger proportion of their budgets since 2010 than wealthy areas, because they had previously been given extra support.
In his speech, Osborne paid a jokey tribute to local government secretary Eric Pickles, saying he had been "a model of lean government".
But Richard Kemp, the former vice chairman of the Local Government Association and the Lib Dem leader on Liverpool Council, told The Huffington Post UK Pickles had been "an absolute disaster".
Asked where the spending cuts would be felt, he said: "It will be the ones you see when you go outside the front door.
"Street cleansing will be reduced, bin collection will be reduced, parks will not be as well-attended as before, youth clubs might be open for fewer hours.
"These are the cuts that everyone will see.
"Then there are cuts to services for disabled and vulnerable people. 95% of people won't see that, but it's a big problem for the 5% who do."
Stressing the need for councils to save cash, Osborne also paid tribute to Sir Merrick Cockell, the Conservative current LGA Chairman.
But Cockell hit back, saying: "This cut will stretch essential services to breaking point in many areas."
Some councils would not be even be able to afford their bare minimum statutory responsibilities, he said.
Local government expert Tony Travers, of the London School of Economics, agreed.
He told The Huffington Post UK: "Nothing quite like this has happened at any point since 1945.
"Certainly not Mrs Thatcher in her heyday...they were modest compared to this. There is nothing like it."
Local government had already been singled out for some of the sharpest cuts, Travers said, and overall budgets face being reduced by up to 30% in overall terms in the next five years.
"That is an extraordinary reduction," he said.
Kemp said councils were being asked to make savings on a scale that is beyond the cuts imposed on Whitehall departments.
"Although the government says they are acting fairly by cutting everyone's grant by the same amount, proportionately poorer areas are seeing their budgets cuts by more," he added.
Responding to Osborne's speech, Labour's Hilary Benn said: "Council leaders will have to make unenviable choices between keeping streetlights on, keeping libraries open and funding the rising costs of adult social care."