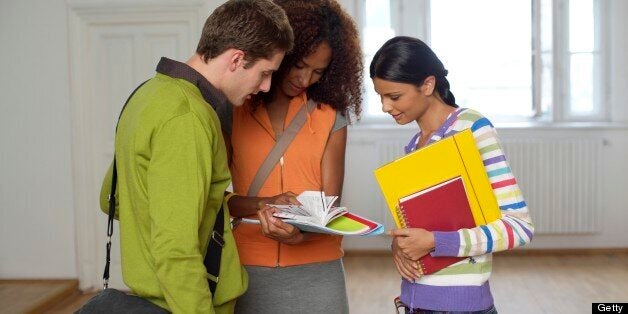 Choosing the right university is never easy. Do you go for a city with good nightlife? A top institution? The best course?
Luckily, we've got Sophie Chamings of UCAS on hand to give us top tips on just what to consider when you're making that important choice.
"Choosing the right college or university for you will require some research," she says. "The more time you put in, the more likely you are to make the right decision."
According to Sophie, who helps run the Department for Education's exam results helpline, there are three main factors to mull over:
"Think about what you subjects you are good at, what you enjoy doing, and what will help you to progress into your chosen career. The course finder facility on the UCAS website allows you to search for the subject you're interested in and then narrow your search down by geographical region.
"There is also a university and college map which shows the locations of all institutions across the UK. You can search, review and compare universities, colleges and subjects on the Unistats website. It includes results from the National Student Survey – more than 220,000 students giving their views about the quality of their higher education experience. It's a great way to evaluate the quality of a course and of an institution.
"Different institutions suit different people.
"Think about what you want from a university or college and look for places that offer those things. Maybe a smaller more personal campus would suit you or maybe you want to live in a specific type of accommodation while studying. It might be that you want to study close to home or that you want to live in a specific city.
"The course might be of most importance to you or you may be more concerned about facilities or extra curricular activities such as sports. Make sure that you visit universities and colleges before making your decision and do not rely solely on the information on their websites.
"By attending open days, you will get a feel for university life - seeing lecture theatres, labs, libraries and IT suites, as well as student catering facilities, bars and halls of residence. You will also get an idea of the distance between the facilities you are using which might be an important factor in your decision."
'There are several resources out there which enable you to speak to current students about their university experiences first-hand. Attending open days will mean you get to meet current and prospective students to share your thoughts, questions and any worries you might have.
"You can also use social network sites such as Twitter and Facebook. There is a UCAS adviser on both who can answer your questions and you can chat to current university students or those in a similar situation to yourself.
"Visit www.ucas.tv for student case studies which might help you work out what is right for you."


It's not too late to apply either - if you get your forms in before 30 June then you can still be made an offer before clearing.
Andrea Robertson, Director of Relationship Management, UCAS said: "If you missed the January deadline but are still keen to find a course, there is time to be made an offer if you apply now.
"Although there are no guarantees at this stage, a strong application will be treated seriously if the university or college has places available.
"Even though this will be a late application, it's still vital to do the correct research, make careful choices and write a strong personal statement.
"Remember that you will be spending at least three years studying and the decision must be the right one for you."
Unexpected exam results?

If you receive unexpected exam results this year and you need free and independent advice about your options, contact the Exam Results Helpline on 0808 100 8000. Lines open daily from 8am on Tuesday 6 August at 8am to midday on Saturday 24th August.