Monaco Grand Prix winner Nico Rosberg claimed top spot in a generally dry second practice session at Silverstone on Friday, his Mercedes AMG Petronas F1 W04 completing the circuit n 1'32.248".
The Silverstone crowd must have been doing a sun dance over lunch as the track was nearly dry at the start of the session, and the rain kept away throughout.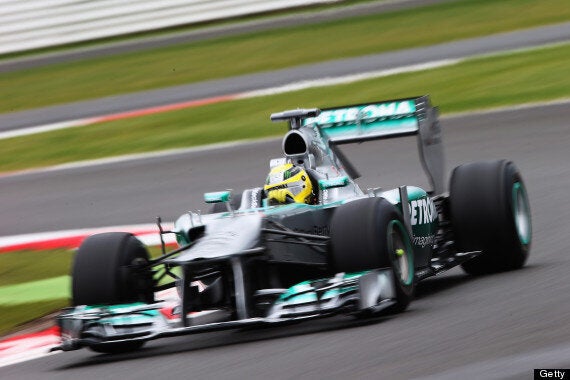 Nico Rosberg fastest in the second practice session for the British Grand Prix
Red Bull Racing drivers Vettel and Webber were immediately out on track, quickly followed by 17 more keen to make up for lost time from the morning's session with Fernando Alonso, Lewis Hamilton and Daniel Ricciardo opting to wait until dry tyres were permissible.
A low risk of rain meant it was a frantic 90 minutes as teams revised race reparation to complete their test programmes in this one session. All drivers started on intermediate tyres before switching to slicks, just 10 minutes in.
Jean-Eric Vergne in the Toro Rosso was first to set a time in the dry, recording a 1'41.868" which he promptly followed up with a 1'38.901" one lap later. As the more traditional front-runners took to the drying track, times started to fall, with Webber taking an early lead on a 1'34.648" in his Red Bull Racing.
Thirty minutes into the session, Felipe Massa brought back memories of Silverstone 2008 when he spun multiple times, by losing control on the exit of Stowe. The Brazilian ran wide onto the rumble strip and lost the rear end of the car sliding across the track and crashing heavily into the tyre barrier next to the entrance of the pit lane. Massa walked away with nothing but damaged pride but brought his session to an early end.
As the teams settled into their testing programmes and the fast lap times were replaced with long-run testing it was the McLarens of Jenson Button and Sergio Perez who once again seemed to be in disappointing form. Following Button and Perez through a lap, the McLaren MP4-28 was visibly unstable, bouncing akin to how it was in Montreal three weeks ago. McLaren claimed they would have better performance here, yet finished in 11th and 14th places.
The other British drivers had an as expected session finishing in 21st (Max Chilton), 4th (Paul Di Resta) and 5th (Lewis Hamilton). Chilton who complained of an "odd sound" as he pulled out of the garage finished over 1.5 seconds adrift of his team-mate and cannot be happy with that.
Paul Di Resta put in a great performance with a 1'32.832" and should certainly be a threat for the podium on Sunday. Hamilton finished behind Di Resta with a 1'32.911" and 0.663 seconds behind team-mate Nico Rosberg. Toro Rosso drivers Daniel Ricciardo (left) and Jean-Eric Vergne (right) are in contention for a Red Bull Racing seat in 2014
The surprise of Practice 2 though came from the Toro Rosso drivers of Ricciardo and Vergne finishing 6th and 7th respectively. With a vacant seat at Red Bull Racing now available for 2014, the race is on for who will take that seat.
It is no guarantee the driver will come from the junior Red Bull team but they are a clear consideration. An exciting battle may be commencing from this grand prix that will go on through the summer.
Related