The father of Prism whistleblower Edward Snowden has said he is confident his son will return to the United States to face charges if conditions about his treatment are met.
Snowden's father, Lonnie, said he was concerned his son was being manipulated by others, including people from WikiLeaks.
Snowden senior told NBC News: "At this point I don't feel that he's committed treason. He has in fact broken US law in the sense that he has released classified information.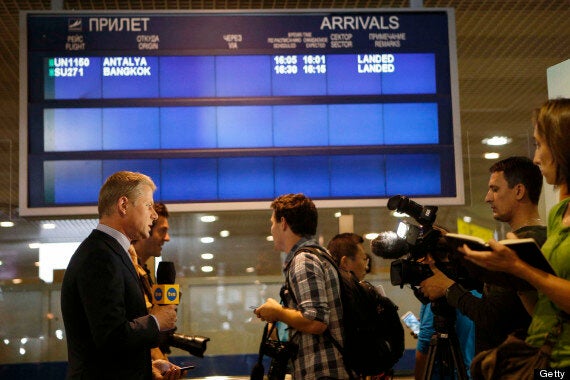 A television journalist conducts a live report near an electronic flight information board at Sheremetyevo airport in Moscow
"And if folks want to classify him as a traitor, in fact he has betrayed his government, but I don't think he has betrayed the people of the United States."
Admitting he had not seen his son since April, he said: "I love him, I would like to have the opportunity to communicate with him.
"I don't want to put him in peril, but I'm concerned about those who surround him. I think WikiLeaks, if you have looked at past history, their focus isn't necessarily the Constitution of the United States, it is simply to release as much information as possible. So that alone is a concern to me."
American media has speculated that those pre-conditions on Snowden returning to the US could potentially include not detaining Snowden before any trial.
NBC News said that Lonnie Snowden plans to make those points in a letter to US Attorney General Eric Holder.
The plea from Snowden's father comes as diplomatic pressure mounted on Russia and the US to find a solution to the former spy agency employee's presence in Moscow airport, where he has reportedly remained for six days.
"The Americans deliberately put Moscow in a tough spot by having failed to inform it of the fact that (his) passport was annulled in time," the source said.
"The Russian authorities were informed of this post-factum, more than a week after Snowden was stripped of his passport," said the official.
"If this fact had been known in advance, then possibly Mr Snowden might not have flown to Moscow and this entire story might never have happened."
Russia and the United States do not have an extradition treaty and this week President Vladmir Putin confirmed that Moscow will not hand Snowden to US authorities.
Snowden will only be able to leave Sheremetyevo airport after a country such as Ecuador or Venezuela offers him political asylum.