A controversial Saudi cleric, who some community leaders warned could whip up Muslim sectarian tension in the UK, has told HuffPost UK the allegations are "nonsense".
Al-Arefe, who is a Sunni Muslim, arrived in London last week, and has been giving lectures at mosques and attended a fundraising dinner to support victims of the violence in Syria.
"He has said he is on a mission, a jihad, at a lecture in Egypt. And we expect him to say this, and expect that his very presence on British land to be controversial."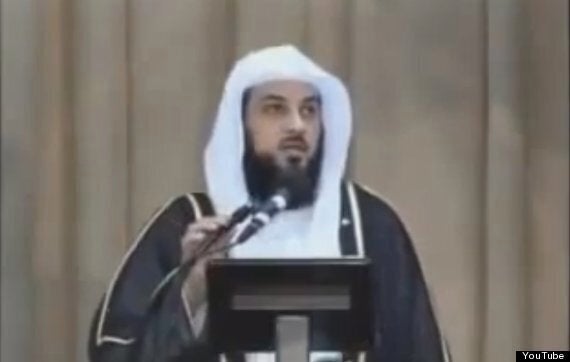 Mohammad Al-Arefe, who has arrived in the UK
And Iraqi lecturer Mohammad Al-Hilli, also a Shia, told HuffPost UK he was "disappointed and deeply concerned at the arrival of Mohamad Al-Arefe. For many years, Al-Arefe has delivered lectures and sermons that has inflamed secterian tension amongst Muslims, especially Shia and Sunni."
But Al-Arefe denied he had any motive to cause division, telling HuffPost UK: "It is of some concern that my visit to the UK is being commented on negatively, given its completely transparent aims, including positive engagement with all Muslims in the UK and raising awareness of the desperate refugee crisis in Syria, at the hands of a regime which has been criticised throughout the world, including by the UK government.
"As regards the specific allegations that I have come to the country to whip up sectarian tensions, then this is nonsense.
"This seems to be based on the fact that I have offered my political opinion that the Syria conflict has broken down upon sectarian lines i.e. upon a Sunni vs. Shia dividing line.
"To be completely clear, I advise both Sunni and Shia' in the UK to continue to respect one another despite what is going on in Syria.
"I would invite and welcome the opportunity for open and frank discussions with members of any sect or faith, whom I am sure, regardless of their beliefs, are deeply moved and concerned about the suffering inflicted on the Syrian population daily by a cruel regime and its supporters."
Tell Mama, which montiors anti-Muslim and inter-Muslim prejudice, have written to the Home Secretary regarding Al Arefe's presence, backed by anti-fascist campaigners Hope Not Hate.
WHAT IS THE DIFFERENCE BETWEEN SUNNI AND SHIA MUSLIMS?

Sunni and Shia Islam are the two major denominations of Islam. Around 90% of the world's Muslims are Sunni, and that is reflected in British demographics.
Sunnis are a majority in most Muslim communities: in Saudi Arabia, South East Asia, China, South Asia, Africa, and some of the Arab world. Shia make up the majority of the population in Iran, Iraq, Lebanon, Azerbaijan, and Bahrain.
The division centres on the schism which occurred after the death of the Prophet Muhammad in 632, over who would be his successor.
The divide has influenced conflicts across the world, most recently in Pakistan, Yemen, Iraq and Bahrain. In Syria, President Assad is an Alawite Muslim, a Shia sect. But the majority of Syrians are Sunni, and the conflict there has become increasingly sectarian.