A historic locomotive will mark a rail milestone on Saturday as it blasts up the East Coast Mainline at the fastest speed travelled by a steam train in almost half a century. Bittern, an A4-class engine that was built in 1937 and is almost identical to the world's fastest steam loco, Mallard, is expected to hit 90mph en-route from London to York.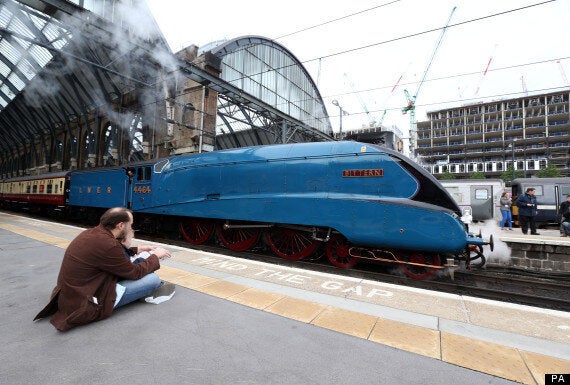 The Bittern is expected to hit around 90mph on its run
The run commemorates Mallard hitting a record 126mph near Grantham on July 3, 1938 - a feat that remains unbeaten 75 years later. Bittern, which will be carrying passengers, was granted special permission by authorities to exceed the 75mph limit for steam trains.
Organisers Locomotive Services Ltd say it will be the fastest a coal-burning locomotive has travelled since steam was phased out in the late 1960s. Bittern and Mallard are two of 35 A4s designed by renowned engineer Sir Nigel Gresley and built for LNER in Doncaster in the 1930s.
Only six survive however, and they are being reunited at the National Railway Museum in York to celebrate the 75th anniversary of Mallard's record. Organisers say the event from July 3, called the Great Gathering, will be a "once-in-a-lifetime sight".
"What we're planning is a major celebration - people will be coming from four corners of the earth," Anthony Coulls, the museum's senior curator of rail vehicle collections, said. "The gathering of the six locomotives is the jewel in the crown really."
The survivors include Dominion of Canada, which now sits next to Mallard at the National Railway Museum after it was shipped from Montreal last October and restored especially for the anniversary. And the Dwight D Eisenhower - another transatlantic expat - has also rolled back into York and been treated to a scrub-up for the occasion.
Union of South Africa and the Sir Nigel Gresley will join them around the museum's Great Hall turntable. Bittern is due to arrive at platform two at London Kings Cross at 7.30am today and depart for York at 8.18am. Some passengers will get on at London while others will be picked up when the train stops at Potters Bar, after which Bittern will be allowed to exceed 75mph on a long stretch of track that has been deemed fit for high speeds.
It should arrive at York at 12.25pm on platform 10. Two other long-distance services are planned for Bittern in July, including Bristol to Newcastle-upon-Tyne and another London to York run.