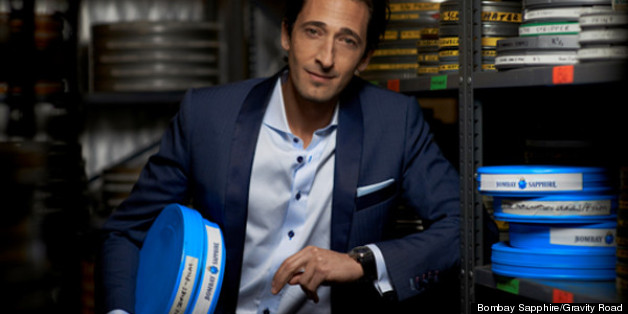 Bombay Sapphire/Gravity Road
Adrien Brody was catapulted into the limelight in 2003, when he became the youngest star, at 29, to scoop the Academy Award for Best Actor for his performance in Roman Polanski's 'The Pianist'.
*that* Oscar moment...
The actor, who had never been nominated for a major award, raised more than a few eyebrows when he beat Hollywood heavyweights, Michael Caine, Jack Nicholson, Daniel Day-Lewis and Nicholas Cage – all previous Oscar winners – to the crown.
'The Pianist' enjoyed modest commercial success compared to its fellow contenders, and Brody himself was a relative outsider, but his harrowing and compelling portrayal of Polish Jew Wladyslaw Szlipman during the holocaust, wowed critics and proved he had earned his stripes.
Yet while Brody's life was transformed in that moment, he was by no means an "overnight success". This wasn't a stroke of beginner's luck, rather the product of many years of intense dedication and devotion to his craft – and a journey that was by no means plain sailing.
An early start...
Brody had been steadily plugging away at his career in search of that perfect role, ever since his film debut at just 15 in the television movie 'Home At Last', (1988).
But though he had seen little commercial success, his talent had not gone unnoticed. In 1989, just a year after his film debut, Woody Allen took a punt on Brody with a minor part in his segment of the triptych of tales, 'New York Stories'.
Four years later, he came to the attention of another acclaimed director, Steve Soderburgh, which led to another small role, as a Depression-era delinquent in 'King Of The Hill'.
While neither connection proved to be an immediate springboard to fame, Brody continued to work steadfastly for the next five years, demonstrating his versatility by taking a diverse range of roles, from a gambler in 'Ten Benny', which earned him critical praise, to Mickey Rourke's junkie brother in 'Bullet' and a homosexual poet based on Beat Generation icon, Allen Ginsberg in 'The Last Time I Committed Suicide'.
So near, yet so far...
But it wasn't until 1998 when internationally acclaimed director Terence Malick offered the actor a major part in 'The Thin Red Line' that his big break appeared to be finally within reach. After six months of arduous filming in the Australian Outback, working alongside the likes of Sean Penn, Nick Nolte, John Cusack and Woody Harrelson, Brody was finally getting noticed. He even appeared on the cover of 'Vanity Fair' tipped as the next big thing. But it was only when he attended an early screening of the film with his parents that he discovered his part had been all but discarded on the cutting room floor.
Brody made no secret of his shock and humiliation at the time. He later told the Observer in an interview: 'I was publically humiliated. It was a very painful, difficult experience. I was 24 years old and it sucked.'
But they say what doesn't kill you makes you stronger, and that certainly proved to be the case with Brody. He dusted himself down and soon reclaimed his status as 'one to watch' when he appeared the following year in Spike Lee's 'Summer Of Sam' which garnered plaudits from critics and put him firmly back on the map.
A new millennium...
Brody's career picked up momentum at the turn of the millennium, as he racked up a further five feature roles between 1999 and 2001, including a murderous psychopath in 'Oxygen', a union agitator in Ken Loach's 'Bread And Roses' and an 18th-Century European Count in 'The Affair Of The Necklace' with Hilary Swank.
By the time Brody received his Academy Award for his portrayal of Wladyslaw Szlipman in 'The Pianist', he had already notched up an impressive 23 film roles. But it was the quality of his work, not the quantity, that had thrust him into the spotlight, earned him his newfound superstardom and cemented his reputation as a tirelessly dedicated perfectionist.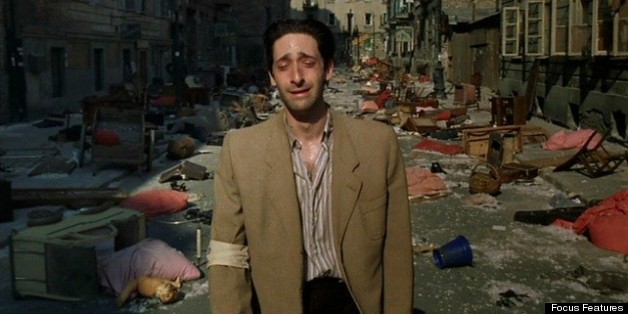 Under the skin of Wladyslaw Szlipman
The ultimate method man...
The intensity with which Brody immerses himself in his characters is unrivalled. To prepare for his Oscar-winning role as Szlipman, Brody gave up his apartment, his Porsche and his girlfriend, learned to play Chopin on the piano and shed 29lbs from his already slender frame. This was a man who was prepared to suffer for his art.
He later said, "[it was] all-consuming. For a good year after, I was probably seriously depressed."
But this unrelenting dedication to a role was not a first for Brody; this was not Oscar-chasing. Prior to filming 'The Pianist' he played a socially awkward ventriloquist in pursuit of a love interest, in 'The Dummy'. He learned ventriloquism and puppetry for the role to such a standard that he was able to perform all of the voice stunts and puppet manipulation live on set in real time, with no dubbing.
Playing the role of a shell-shocked Gulf War veteran sent to an institution and subjected to radical therapy, in 'The Jacket' (2005), he asked to be left in a straitjacket in a morgue drawer even when the cameras weren't rolling.
Box office smash...
But it wasn't until his starring role in the acclaimed 'King Kong' remake in the same year that Brody saw his best box office success. The film grossed $550m worldwide.
Over the course of the next few years, Brody continued to prove his adaptability with roles as diverse as a stoned teacher ('High School') and an action hero ('Predators') in 2010 and the whacky surrealist painter, Salvador Dali, in his second Woody Allen film, 'Midnight In Paris' in 2011.
And Woody Allen hasn't been the only top director to have come back for more after working with Brody. In 2007 Brody opted for a more offbeat role, playing alongside Owen Wilson and Jason Schwartzman in 'The Darjeeling Limited', his acting debut for critically acclaimed director and screenwriter, Wes Anderson, famed for his offbeat comedies and dysfunctional characters.
Anderson is known for casting the same actors time and again. And it looks like Brody is now officially in the club. Set to appear in 'The Grand Budapest Hotel' in 2014, about "a legendary concierge at a famous European hotel between the wars, and his friendship with a young employee who becomes his trusted protégé", Brody will be part of one of the most impressive ensemble casts ever seen (Ralph Fiennes, Jude Law, Harvey Keitel, Edward Norton, Tilda Swinton, Jeff Goldblum, Willem Dafoe, Jason Schwartzman, Owen Wilson, Bill Murray, Saoirse Ronan, Tom Wilkinson, to name a few…).
Adrien Brody? Wes Anderson? A stellar cast? The film has all the makings of a critical and box office smash. And the prolific star has three other films on the go due for release by the end of 2014 - 'American Heist', 'Cannes' and 'Third Person'. It looks like next year is going to be yet another good year for Adrien Brody.
ATTENTION budding screenwriters!
Surprisingly the Oscar-winning star still finds the time for extra-curricular projects. This year Brody will be on the panel of judges for the Imagination Series film competition with Bombay Sapphire and the Tribeca Film Festival. Find out how to enter the competition and have your short film made.