Nothing beats a cast reunion from one of your favourite childhood films. They hold the same excitement as a school reunion without the dread of actually having to share your unimpressive achievements from the past 10 years.
The latest bunch of actors to get together to remember the good times they shared on set are the cast of 1996 film 'Matilda', including Danny DeVito and Matilda herself Mara Wilson.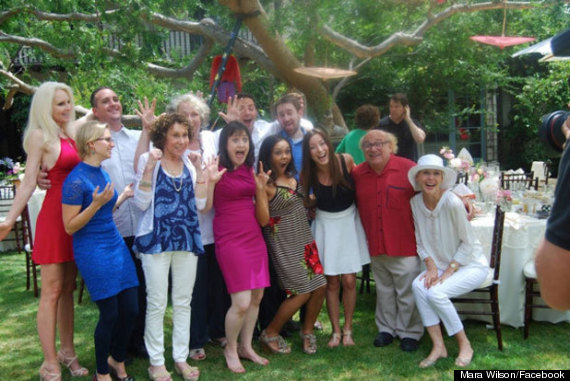 [Left to right, back row: Million Dollar Sticky star, Brian Levinson (Michael Wormwood), Pam Ferris (Miss Trunchbull), Jimmy Karz (Bruce Bogtrotter), Leor Livneh Hackel (Julius Rottwinkle)
Left to right, front row: Jacqueline Steiger (Amanda Thripp), Rhea Perlman (Mrs Wormwood), Mara Wilson (Matilda Wormwood), Kiami Davael (Lavender Brown), Sara Magdalin (4-year-old Matilda Wormwood), Danny DeVito (Mr Wormwood/Narrator), Embeth Davidtz (Miss Honey)]
Miss Trunchball looks far less scary, but Miss Honey looks as cute as ever.
Child star Wilson stepped away from Hollywood in 2000 after starring in the film which was adapted from the 1988 novel of the same name by author Roald Dahl.
Just as Lindsay Lohan continues to circle the drain, and Amanda Bynes tweets her apparent breakdown on an hourly basis, the former child star recently offered an insider's perspective on why so many child actors lose it in the end.
Wilson, who also starred in 'Mrs. Doubtfire,' and 'Miracle on 34th Street,' writes in an article for the website, Cracked, that there are seven reasons why "not many child stars make it out of Hollywood alive or sane".
Not surprisingly, parents have much to do with it. According to Wilson, it was always her decision to start acting professionally and her parents actually discouraged her from it in the first place. The 25-year-old explains she saw many child actors who were pushed into acting as a means of supporting their families. As she explains, there is a law in place to try to prevent greedy parents from embezzling their child's money.
As a survivor of child stardom, Wilson has a few words of wisdom for children who want to act.
"Make sure it's really your choice, get out of it when it stops being fun, and get an education," she writes, adding that "considering all the legal hassle child stars can be, I won't be surprised when they are phased out by CGI children voiced by adult actors".
For more on why child stars go crazy, click over to Cracked.