"It would be disingenuous to the animal not to make the most of the whole beast; there is a set of delights, textural and flavoursome, which lie beyond the fillet."
And so opens Fergus Henderson's The Complete Nose to Tail, an ode to the pig and other rich foods.
This cult cookbook is not about replicating restaurant-style food, says Henderson, but enjoying cooking and spending time with loved ones.
The combination of sumptuous recipes such as devilled crab, boiled beef and bitter chocolate cream (yum) paired with delicious photography from Jason Lowe, is enough to get your lips smacking.
Tweet us pictures of your culinary triumphs @HuffPoLifestyle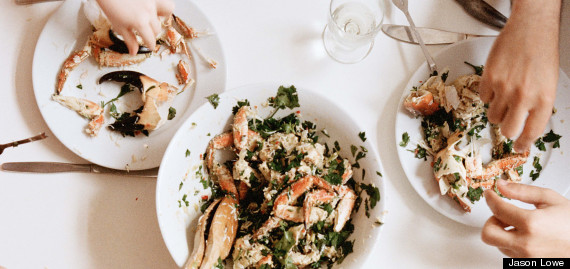 DEVILLED CRAB
To feed six
3 x 1kg crabs
a healthy splash of extra virgin olive oil
4 cloves of garlic, peeled and chopped very finely
2 fresh red chillies, seeds removed and chopped very finely
100g fresh ginger, peeled and grated very finely
12 spring onions, cleaned, trimmed and chopped
juice of 2 lemons
sea salt and black pepper
half a bunch of washed picked coriander, just disciplined by the merest chopping
half a bunch of picked flat-leaf parsley, just disciplined by the merest chopping
This recipe is from Su Rogers, my best friend's mum – I beg her pardon for altering it a little, for I recall more of the meat is picked out of the shell in her recipe, whereas I enjoy the hard work at the eating moment. It is also the only dish in this book that contains coriander.
Cook and prepare the crabs as in the previous recipe; for this recipe you want to boil them for 20 minutes, on the side of under- rather than overcooked, as they are cooked again. Scoop all the meat out of the shell into a bowl and remove all the legs from the body. With a strong knife, cut the body into quarters and partially crack the large claws with a hammer.
In a pan heat the olive oil and fry the garlic, chilli and ginger for 3 minutes. Add the quartered crab bodies, the claws, the spring onion, and then the scooped crab meat and all the legs, and the lemon juice. Season and stir continuously and enthusiastically until heated through.
Just before serving, throw in the coriander and parsley, give one last stir, tip into a dish, and eat armed with useful tools to pick out the crab flesh, and many napkins, and for that matter, much white wine.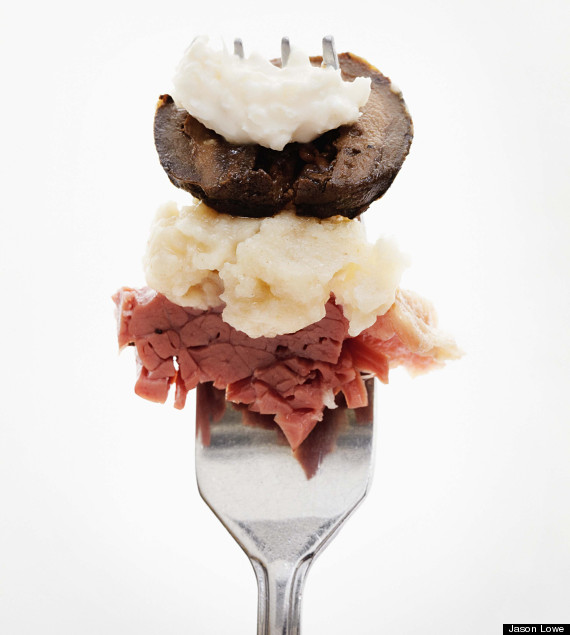 BOILED BEEF AND DUMPLINGS
To serve six:
2.5 kg piece of brisket (you can use silverside for this), unrolled, rinsed
a bundle of parsley and thyme
3 sticks of celery, chopped
2 bay leaves
10 black peppercorns
6 onions, peeled
6 carrots, peeled
6 leeks, cleaned
DUMPLINGS
100g suet
225g self-raising flour
a pinch of sea salt and black pepper
1 beaten egg
Boiled beef also goes remarkably well with Aïoli or Green Sauce (see pages 252 and 255), but if using these, do not include the dumplings or the pickled walnuts. To salt the briskets yourself, make a brine (see page 269) and leave them for 12 days, or you can buy salted brisket from the butcher, in which case make sure it's not rolled in.
Place your beef into a pot (remember it has to be big enough to accommodate the vegetables as well), cover with water, and add your herb bundle, celery, bay leaves and peppercorns. Bring up to the boil, skim, and reduce to a very gentle simmer, with barely signs of movement in the water, for approximately 4 hours. Prod with a knife to check how the meat feels – it should be giving, but not collapsing!
After the meat has been simmering for 2 hours put in the onions, after 2 ½ hours the carrots, and after 3 hours the leeks. Keep an eye on your vegetables so they do not overcook – you can always remove them. However, this is a dish that demands well-cooked vegetables, no al dente here. When everything is ready, remove the meat and vegetables to a serving dish and keep them warm with a splash of broth to moisten. Make the dumplings as follows.
Bring the broth to a rolling simmer. Meanwhile mix the ingredients together, adding some cold water: you are looking for quite a sticky dough. Shape into walnut-sized balls and drop into your simmering broth – they should take about 10 minutes to cook and should be like little suet clouds. Serve all together with pickled walnuts and Horseradish Sauce (see page 248).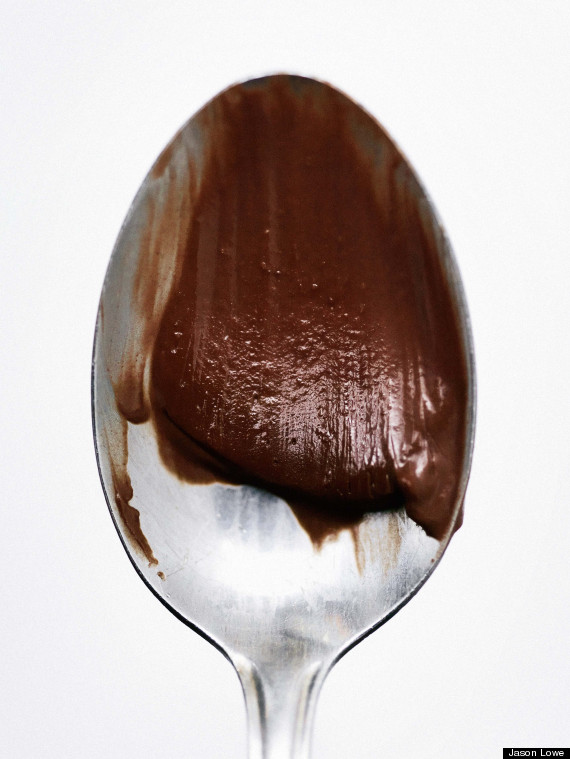 BITTER CHOCOLATE CREAM
To serve six:
250g plain chocolate, with at least
70 per cent cocoa solids (we use an El Rey Venezuelan chocolate called Apamate, at 73.5 per cent)
1 gelatine leaf
375ml double cream
125ml full-fat milk
100g caster sugar
"Cor blimey!"
Cut the chocolate into small chunks, put it in a large bowl and set aside. Put the gelatine leaf in a separate bowl and cover with cold water.
Pour the cream and milk into a saucepan, add the caster sugar and bring slowly to the boil, whisking occasionally. Now go back to your gelatine and squeeze out the water. Once the cream is boiling, take it off the heat, add the squeezed-out gelatine leaf and whisk until dissolved. Then strain the hot cream mixture over the chocolate and whisk until the chocolate has dissolved. You will have a beautiful, glossy chocolate cream.
Pour the mixture into 6 individual moulds or one large serving dish and leave in the fridge for 4-6 hours, until set. Serve with Hazelnut Biscuits (see page 308) and tea-soaked prunes (see page 322), or with cherries when in season.
Fergus Henderson, The Complete Nose To Tail: A Kind Of British Cooking, £30, Bloomsbury
LIKE HUFFPOST UK LIFESTYLE ON FACEBOOK | FOLLOW US ON TWITTER
The Huffington Post UK are proud media partners of Wilderness festival. Check back here for more exclusive blogs, competitions and stories soon. For tickets to the event click here: www.wildernessfestival.com
Watch a trailer for this year's Wilderness and check out some pictures from last year below...