This is the incredible moment an orangutan cradles her "miracle" newborn, captured on camera for the first time.
Never-before-seen footage of the Sumatran orangutan birth is at the heart of a BBC documentary filmed to mark the 50th anniversary of the founding of Jersey's Durrell Wildlife Conservation Trust.
In it, camera crews record the live birth of orangutan Dana's baby, and the seconds afterwards as mother takes the infant to her chest and cleans the offspring.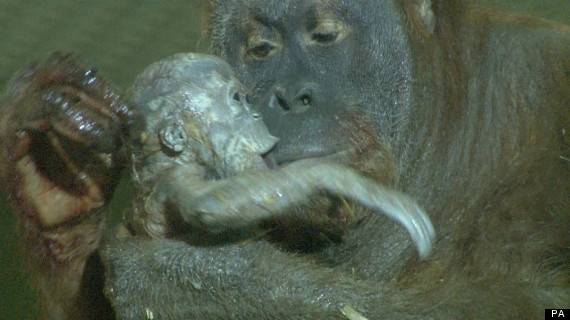 Probably the best picture you'll see today
It is believed to be the first time a live orang-utan birth has been caught on film, and will feature in Refugees Of The Lost Rain Forest, on BBC One SW at 3.30pm on Sunday July 14. It will also be available for the following seven days on BBC iPlayer.
The birth was remarkable as Dana's previous pregnancy in 2009 suffered complications that endangered her health and resulted in a stillborn infant. Following the incident Dana was left with blocked fallopian tubes, rendering her infertile.
Story continues after the slideshow...
But expert intervention by Jersey General Hospital's head obstetrician, Neil MacLachlan, helped her to conceive, against the odds, in late 2012.
Crew members and primate specialists then watched anxiously as Dana gave birth to a daughter on June 9.
Gordon Hunt, orangutan expert at the Durrell Wildlife Conservation Trust, said: "We didn't know what was going to happen as we had almost written Dana off as never breeding again.
"We watched the birth but we didn't know everything was okay until later - we didn't want to get too excited.
"Seeing the birth was incredible - mind-blowing. I watched the birth of my children and I don't think you realise until much later what you're witnessing.
"As far as we know, this is the first time a procedure like that to clear the fallopian tubes has ever been done with a Sumatran orang-utan. To get the birth on camera is fantastic and we cannot wait to show the footage to everyone."
BBC Radio Jersey and BBC South West TV produced the programme, highlighting the work being done to help protect Sumatran orang-utans in the wild.
Refugees Of The Lost Rain Forest will be broadcast on BBC One SW, at 3.30pm on Sunday July 14. It will be available for the following seven days on BBC iPlayer.