A revolutionary solar-powered plane has touched down in New York completing a historic flight across the United States.
The Solar Impulse plane took off from California in May making stops in Phoenix, Arizona, Dallas, Texas, and St Louis, Missouri.
The journey took almost two months to complete, and was taken in many separate stages.
The occasion was slightly marred as a planned fly-pass past the Statue of Liberty had to be cancelled due to a tear in the left wing. Taking off from Phoenix in May
It is the first time a solar-powered plane capable of flying day and night has flown across America.
Despite having the same wingspan as a 370 tonne Airbus A340, the Solar Impulse weighs only 1.6 tonnes.
Sunlight via 12,000 solar cells powers the aircraft's four propellors while charging a 400kg battery for night-time flight.
It is a single-seat aircraft with pilots Andre Borschberg and Bertrand Piccard taking it in turns to fly.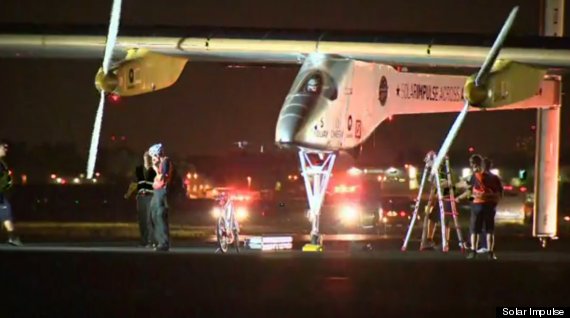 Shortly after landing at JFK airport
The Solar Impulse made the world's first inter-continental flight from Gibraltar to Morocco last year.
The next challenge is to fly a larger, two seat version around the world in 2015.