The campaign to get more girls interested in STEM (Science, Technology, Engineering and Maths) just got a whole lot fiercer.
Debbie Sterling, who founded Goldieblox -- a toy designed to get girls into engineering -- has enlisted an army of tiny (but fierce) girls to star in her advert and put an end to gender stereotypes once and for all.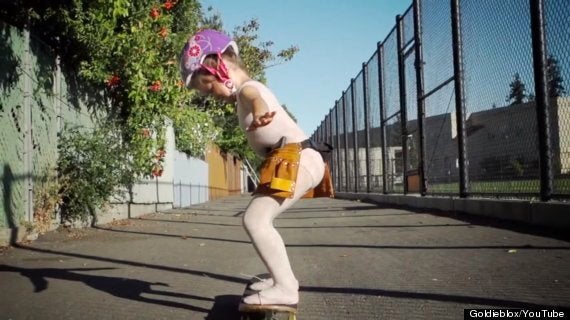 Ballet pumps, skateboard, tool kit -- that's our kind of girl
Tired of their hideously gendered toys -- think ballet pumps, teddy bears and fairy wands -- the girls storm a local shop.
Smeared with bike grease and wearing 'More Than Just A Princess' T-shirts, they clearly mean business.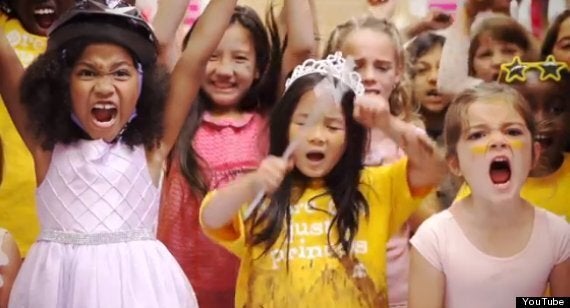 We wouldn't want to mess with them
Goldieblox, which raised $285,881 of its $150,000 goal on Kickstarter and now available in Toys'R'Us, aims to get girls interested in building through story telling rather than simply making everything pink.
"I tested GoldieBlox with over 100 girls and the reaction was overwhelmingly positive!" Debbie told HuffPost in 2012. "I got to watch the girls problem solve through the book, and it wasn't always easy, but the moments of joy when they figured it out would always bring tears to my eyes."
The odds are against us. We've been told that GoldieBlox can't survive in mass stores next to Barbie. Convention says that engineering toys for girls are a "niche" for the affluent, and for the internet. Together, we must prove convention wrong.
"Like most parents, my heart sinks when I see any toys designed 'specifically for girls'," Tamsin Kelly, editor of parentdish.co.uk and a mum of three, told HuffPost UK Lifestyle.
She adds: "Girls and boys will play with toys that give their imaginations a free rein, end of. As they become older, they may become more interested in traditional boy and girl things –- but maybe not, and why should they?"
Do you think that toys aimed specifically at boys and girls are outdated? Let us know in the comments below