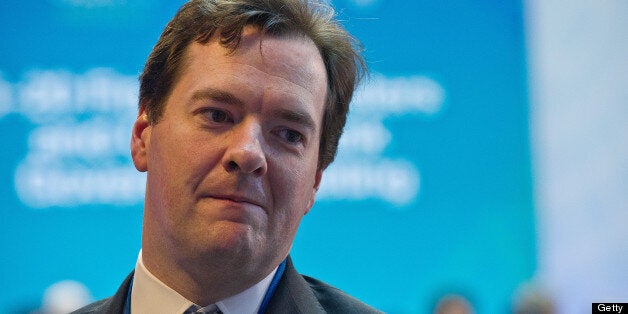 The International Monetary Fund's decision to lift its growth forecasts for the UK has been met with widespread derision from leading economists and business leaders.
Despite the seemingly positive news for Chancellor George Osborne, who was previously warned by the IMF's chief economist that his austerity agenda was "playing with fire", critics warned that the Fund's latest announcement was "hopelessly optimistic" and "a sideshow".
Publishing its latest World Economic Outlook, the IMF said that Britain's economy would grow 0.9% this year, up by 0.3% since its last report in April when it downgraded the UK's forecasts. The IMF also predicted that the UK would go on to enjoy growth of 1.5% in 2014.
However, this improved growth rate, were it to be achieved, would still leave the British economy smaller in size that it was before the financial crisis hit in 2008.
Jonathan Portes, director of the National Institute for Economic and Social Research (NIESR) and former Cabinet Office chief economist, told the Huffington Post UK: "The UK economy is clearly picking up slightly, as reflected in the IMF forecasts and NIESR's own monthly GDP estimates.
"Nevertheless, output is still 3 percent below its level at the start of 2008, and unemployment remains much higher than necessary and much higher than before the crisis."
The TUC's general secretary Frances O'Grady said: "The IMF upgrade is welcome, if unsurprising. But raising growth forecasts from rubbish to not quite so rubbish hardly constitutes a strong recovery. The UK is still on course for the slowest recovery in over a century, and growth this year will still be well below the OBR's initial forecast of 2.9 per cent.
She added: "The case for a plan B – replacing austerity with investment in infrastructure and proper employment schemes for young people – is just as strong."
Martin Beck, UK economist at Capital Economics, dismissed the IMF figure as "not very impressive".
"Even 1% for an economy that has had such a long period of stagnation is rather disappointing. It is still rather unspectacular growth," he told the Huffington Post UK.
"It's a sign the economy is still weak, and you have to ask why have we been in intensive care for so long?"
Eimear Daly, head of market analysis at Monex Europe, said: "The IMF's upgrade of the UK economy is mostly a matter of pride after its continual downgrades and heavy criticism of the government's austerity policies.
"An increase of 0.2% in annual growth is hardly an achievement. The apparent economic significance of this upgrade is undermined by June's GDP revisions, which discovered a much deeper recession following 2008 and put us further behind a recovery. It's easy to grow faster from a lower starting point.
"Recent positive data have hyped a UK recovery, but we shouldn't be duped by superficial indicators on the economy which are highly volatile and prone to sharp reversal.
"Improvements in business investment, credit flows to SMEs and a pick-up in trade would be better measures of economic growth and real signs of a sustainable recovery. However, none of this has occurred and 0.5% as opposed to 0.7% really isn't saying much on the UK's supposed recovery."
Business leaders have responded to the news with scepticism. Hugh Williams, MD of forecasting experts Hughenden Consulting said: "Are we going to notice any difference? I doubt it". While Peter Leahy, founder of the Sovereign Leadership group, said: "What the IMF predicts is currently seen as a sideshow [by the markets]."
The significance of the International Monetary Fund's forecasts came under fierce attack from other economists, too. Cass Business School professor Phillip Booth, who is also editorial director of the free market thinktank, the Institute for Economic Affairs (IEA), told HuffPost UK that the Fund's forecasts had been "hopelessly wrong since 2008".
"We shouldn't read too much into it. A lot of the economic signs have moved from flatlining to slightly above flatlining," he said. "No sensible politician should take any notice of what the IMF say."
Related