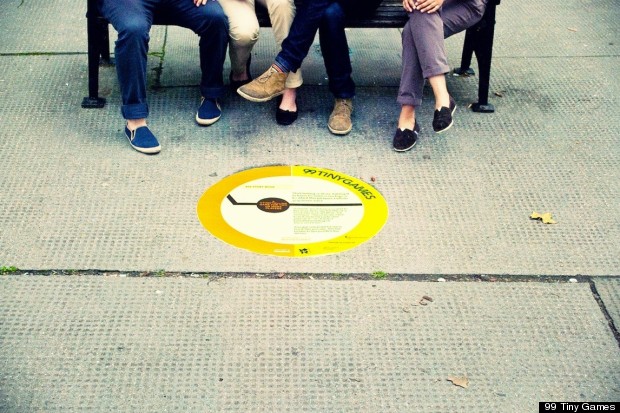 Now you've had a chance to get well and truly into the competitive spirit thanks to the omnipresent 2012 Olympics, we'd like to draw your attention to some other games - 99 Tiny Games, to be precise - that are taking place all over London until 23 August.

The idea is simple - each of London's 33 boroughs contains three gaming opportunities where all you have to do is read the rules from a vinyl plaque, find out which bits of the surrounding environment you need to use, and start playing. The simplicity appeals to our love of jumping straight into things and the rest appeals to the fact we're not-so-secretly just big kids at heart.

"This summer we are hosting the greatest sporting event on earth and this project has a wonderful symmetry," explains Boris Johnson, Mayor of London. "Londoners and visitors alike will have the opportunity to come together to play miniature games in locations right across the capital. Whether striking up play with your friends or family, or engaging with those around you, it's another way to bring the community together at this special time for our city."

The games which include original concepts from London design studio Hide&Seek form part of Showtime, the Mayor of London's outdoor festival which aims to showcase national and international artists as part of the London 2012 celebrations. You can find a full list of game locations at 99tinygames.co.uk, or just explore the city and see what you can stumble across unaided.

Our current favourite is You Shouldn't Have on Hounslow High Street which challenges players to name a mutual friend and then spent five minutes window shopping for the least appropriate gift for that person. The winner is the player who is agreed to have discovered the gift their mutual friend would hate the most...