Arsenal departed for their Asian pre-season tour on Thursday with plenty of work to be done to end the club's eight-year trophy drought.
The Gunners have not lifted silverware since the 2005 FA Cup win, and with Arsène Wenger's contract due to expire in 2014 the pressure on the Frenchman is likely to be intense.
Arsenal have already recruited France Under-21 attacker Yaya Sanogo on a free transfer and have been linked with big-money moves for Real Madrid's £25million-rated forward Gonzalo Higuaín, Liverpool's Luis Suárez and Everton midfielder Marouane Fellaini, as well as Manchester United forward Wayne Rooney.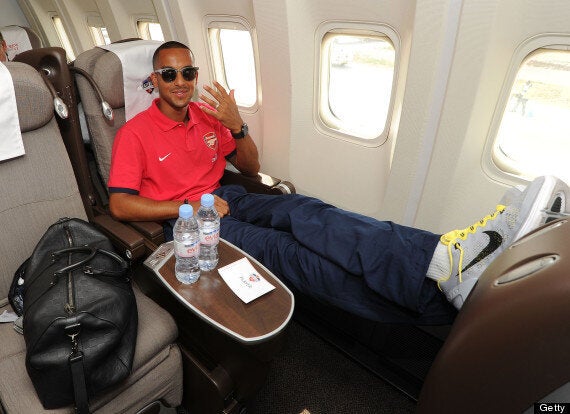 Married man Theo Walcott gets ready for take-off
Winger Alex Oxlade-Chamberlain, however, feels fit again Jack Wilshere can help drive the side on with his all-action displays at the heart of the team.
"Jack is back in training and looking really good. He is obviously coming away with us on tour today and the fact he is looking so strong is good news for Arsenal and England," Oxlade-Chamberlain said in the London Evening Standard.
"Hopefully, he can stay fit because he is an amazing player and can add a lot to our team. Is he the best kind of signing we can make? Yes.
"Everyone is important. Whenever you lose someone it dents the team in some way. If we can keep him fit, it will give us a lot more options and enhances competition for places."
Popular in the Community