Chris Froome banked another two minutes in his quest to win the Tour de France during yesterday's time trial, but predicted he will need every second when the race reaches boiling point in the Alps next week.
Froome finished second to Tony Martin in front of the world heritage site of Mont-Saint-Michel, but he was the only general classification contender in the time trial's top 10, and extended his lead over second-placed Alejandro Valverde to three minutes and 25 seconds.
The Spaniard finished 13th, two minutes behind Froome, while Alberto Contador, fourth overall, was a further two places and two seconds off the pace.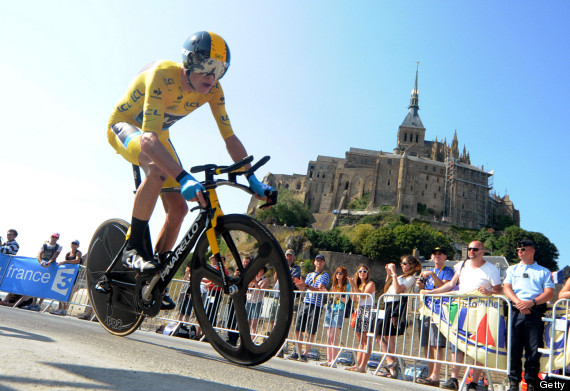 Froome is thriving without Bradley Wiggins in France
While Froome is not relying on his time trial prowess to the same extent as his team-mate Sir Bradley Wiggins did in last year's Tour - when Wiggins became the first ever British winner - his obvious strength in the discipline compared to his rivals was something he had to cash in on.
"I think I've shown I can hold my own in the mountains and now in the time trial as well," Froome said.
"I'm really happy to have extended my lead in the general classification because if last weekend is anything to go by I'm going to need every second I can get at this stage."
Martin, the world time trial champion, won despite still carrying the scars from an injury suffered on the opening stage in Bastia when a crash, in the words of team-mate Mark Cavendish, "took half his skin off".
Froome, who took bronze to Martin's silver in the Olympic time trial won by Wiggins last summer, saw no shame in finishing 12 seconds behind the German, even though the Kenyan-born Briton had led narrowly through the first two intermediate time checks.
"I gave the time trial everything I had," said Froome.
"Tony showed why he's the world champion with a fantastic ride so hats off to him for that."