From shopping in the January sales and sourcing fabric from a local market, to DIY lawn games and setting up an unlikely business after the big day, Ruth and Ryan Dixon planned their vintage tea party wedding all by themselves and loved every minute...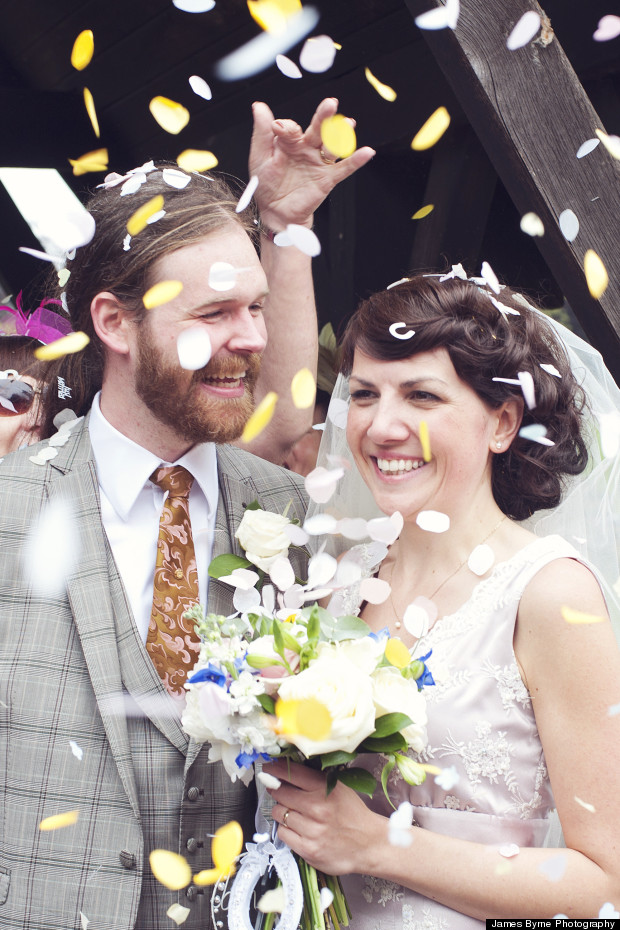 Ruth and Ryan tied the knot at their local church, All Hallows near Retford, Nottinghamshire. For the reception, the couple hired a marquee from Mudfords and pitched it up at Egmanton Village Hall. "We used the hall for the facilities and played garden games on the land at the front."

For eats, the pair hired caterer Sandra Bishop who created a retro tea party menu for the occasion. "We sourced vintage china ourselves," said Ruth, who's now putting all that crockery to good use by setting up Storm In A Teacup, a service allowing people to borrow the pieces for weddings and other events.



Ruth had a hand in designing her own dress with help from her close friend Sylvia, who made the vintage-style gown for her. "We went shopping for the fabric at Nottingham market.

"Sylvia did all the beading work by hand – it took her over 130 hours on the detailing alone." Ruth's retro dress, though classic in cut, was far from traditional in colour as she opted for an oyster pink underlay with delicate sewn on top.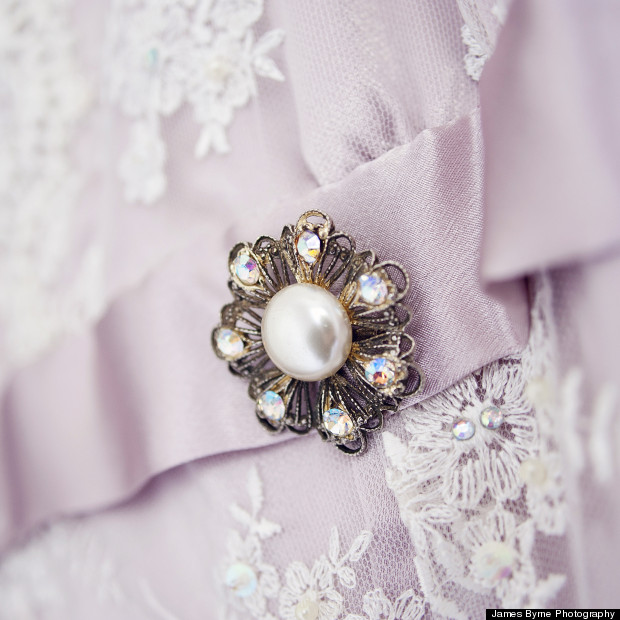 As for her shoes, those WERE designer. Vivienne Westwood, in fact. "A friend spotted them on sale in a tiny boutique in Chorley," she explained. Nottingham-based salon Sweetnam And Hobbs did the bride, bridesmaids and the mother of the bride's hair. "I wanted a Forties-inspired look, which they captured perfectly!" Makeup artist Jo Noble, from Butterflies, Babworth created a fresh barely-there beauty look for Ruth's big day allowing for a few tears to be shed without leaving streaky mascara cheeks behind.

The bridesmaids were all kitted out in Monsoon dresses, bought in the January sales. Ruth's friend Sylvia also made pretty pink headbands from the same fabric as the bride's dress along with bows that clipped onto all the girls shoes.

And the cake? Made by close friend Sue. "It was a fruit and sponge cake – I opted for tradition because I love fruit cake. Ryan is a fan of victoria sponge so we had a layer of that with jam.

"It was delicious and decorated with bunting made from icing and used a vintage cup with icing daisies inside as the cake topper."

Photography was all taken care of by James Byrne, while the One Wedding team put together a quirky wedding video for the couple.



So, what was the best moment of Ruth's day? "There were so many lovely moments. Ryan's speech – it was probably the longest groom's speech EVER but he mentioned everyone and really thought about making it personal.

"I loved being surrounded by all my friends and family; playing garden games and getting everyone out together on the lawn.

"My dad holding my hand through my vows, getting ready with my mum and the bridesmaids and, of course, dressing my little Chihuahua, Ernie, in his wedding suit."

This bride's advice to any girls getting married this year is to enjoy every single moment. Relax and trust that everything is going to be okay. "Like my Aunty Sylvia said to me, 'If it doesn't go to plan like you imagined, then just go with it because there's nothing you can do. It will all turn out alright in the end.' And it did! We hade the most beautiful day ever."