It's not everyday you get to play at being one of the cool indie kids at the NME Awards, but MyDaily's Celebrity Writer Ellen Stewart got her rocker horns at the ready and, er, spent the night chatting fashion with Laura Whitmore and mum-dancing to The Smiths...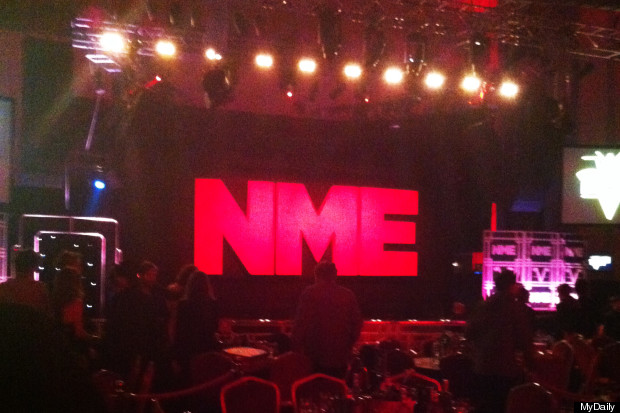 The NMEs (aka the stick it to the man awards) are the epitome of "I don't give a sh*t". I mean, the gongs are golden hands flipping the bird for goodness sake! So when I arrived at the obligatory edgy venue, I was ready for an evening of moshing with Crystal Castles and comparing piercings with It Girl/singer/model/new wave icon Sky Ferreira. I did not think I'd be sipping fruity gin mixers and nibbling margarita pizza with Gizzi Erskine – but that's what happened.

Don't get me wrong - the cream of the cool musical crop were there; AltJ, Blur, Kanye West. "I look after Kanye, he's a great guy," he said. "Oh, and I've met Kim, she's actually really laid back and normal when she's away from all the hype." As if! I didn't believe him for one second. I excused myself to pop to the ladies and almost knocked down Laura Whitmore (we're like besties now after our night at the PPQ after-party) who was hanging with Ryan Jarman from The Cribs.

She said she didn't recognise me out of the Fashion Week context (obviously I succeeded in my attempts to blend into the indie crowd) and we got gossing about Biffy Clyro, her cut-out Lacoste dress and of course lady of the moment Florence Welch. "I love Florence, she must have a stack of NME awards by now," she exclaimed.




After The Rolling Stones won Best Live Act, and Jack Whitehall rushed from the bathroom to collect an award on behalf of Fresh Meat, confessing to the crowd he hadn't washed his hands, telly chef Gizzi Erskine joined our table and we scoffed on left over pizza and danced in our seats to The Cribs.

As things started to die down, I thought about scooting off to catch a train, but then, oh but then! The Smiths and Ronnie Wood stormed the stage and I almost died. The flippin' Smiths and Ronnie Wood! Performing! Together! If #totesamaze can ever be considered acceptable, this was the time. Everyone went mental and I finally found the rock to my roll I'd been praying for all evening. Although, with little space to dance and wearing ma-husive heels I couldn't quite rock out as crazily as I wanted to. Instead I ended up imitating my mum after a few glasses of wine at the staff Christmas party and doing a woozy side-step bop (sorry mum).