I've always loved Valentine's Day, even when I was single, just because I'm a big old soppy romantic and adore that whole 'love is in the air' feeling. That, and it gives you a little reminder to buff up not just your beauty prep but also to go get measured again and update your underwear drawer.

Here are a few of my favourites out there at the moment to help beautify body and soul because, whilst the products and the make up will make you look gorgeous, as anyone who's gone from wearing the wrong sized underwear to finding their true size - discovering that you actually have a waist and only two boobs, not four - will tell you, there's nothing like that confident, sexy feeling of fabulous, well-fitting lingerie no matter what your size.

Have a beautiful Valentine's everyone x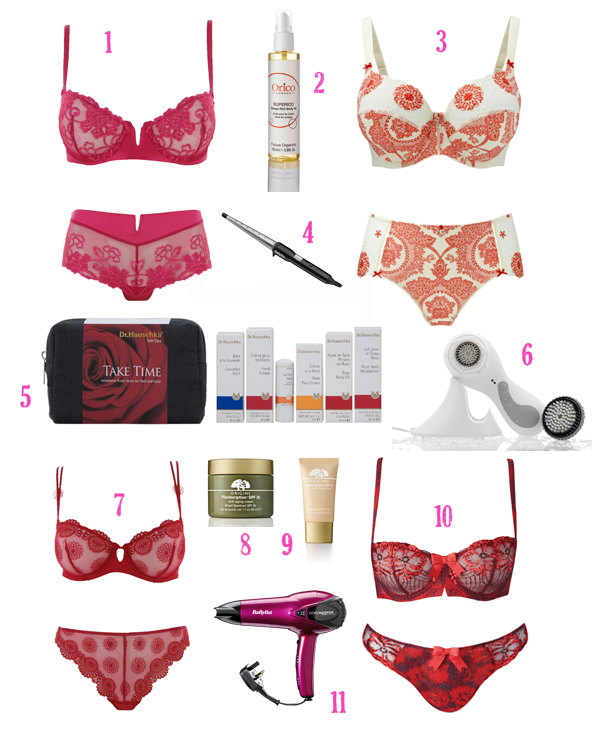 1 Simone Perele Romance set available from Rigby & Peller - Half cup bra, £74.95, tanga £40.95

8 Origins Plantscription SPF25 cream with Raspberry Plant Stem Cell Technology - this is one crazy high tech sounding super-moisturiser with a good dose of sun protection too, £46 from John Lewis and www.origins.co.uk

9 Origins Plantscription Broad Spectrum SPF15 Anti-Aging Foundation - I have recently switched to this from my usual tinted moisturiser and absolutely love the silky, youthful finish it gives (with great coverage on my very pale skin too) but the fact that it comes in a wipe clean, light tube means I can fling it in my bag to apply on the bus when I'm in a hurry. WIN. £27 from John Lewis or Origins.co.uk as before.

10 Aubade Love Circus - Half cup bra £88.95, G-string £52.95, from Rigby & Peller

11 Babyliss Cord Keeper hairdryer - an affordable hairdryer with a retractable cord! Isn't that just the best?! One press of a button and your cable whizzes back inside where you can't trip over it - awesome. £24.99, available from Argos.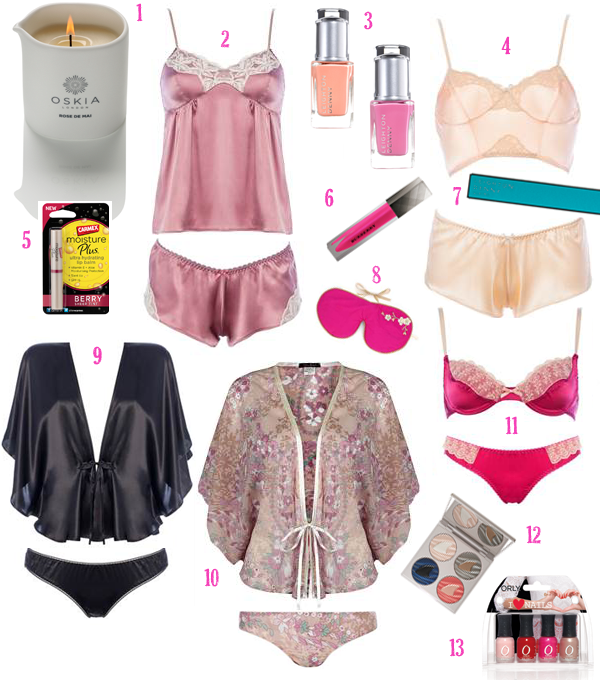 1 Oskia Skin Smoothing Rose de Mai Candle - isn't this clever? Made from beeswax, soybean and coconut oil plus various vitamins and anti-oxidants, £34.50 from www.oskiaskincare.com
2 Lily Silk Camisole & Lily Silk Knicker, £115, from luxury ethical silk lingerie brand, Ayten Gasson - www.aytengasson.com NB. all Ayten Gasson sets here are also available separately, you don't have to get the matching sets.
3 Leighton Denny nail polishes from the Riviera Collection, £11 each from www.leightondennyexpertnails.com
4 Antique Tea Rose Long Line Bralet & Tap Pant, £109 from www.aytengasson.com
5 Carmex Moisture Plus in Berry, gives a gorgeous soft, dewy colour, £4.49 from www.boots.com
6 Burberry Sweetpea Lip Glow from http://uk.burberry.com/store/
7 Leighton Denny Expert Nails Quatro Buffer - 4 in 1 File & Nail Buffer, £5.50 - this is incredible. I hate filing my nails or anyone touching them but this is so soft and light it does a great job but without any unnecessary roughness. A must have piece of nail kit for artificial and natural nails.
8 Lavender Eye Mask for having a little relax while you pamper, £46 from www.HolisticSilk.com
9 Classic Silk Bed Jacket & Classic Overt Knicker, £140 from www.aytengasson.com
10 Floral Silk Bed Jacket & Knicker, £146 from www.aytengasson.com
11 Lexie Silk Underwire Bra & Knicker, £117, from www.aytengasson.com
12 Chantecaille Save the Sharks Palette, £75 from Space NK, Harrods, Fenwick Bond Street and Liberty - a super pretty range of cheek and eye colours in a refillable compact with 5% of proceeds going to the conservation group, BLOOM Association.
13 Orly nail set, £12.95 from www.Beautybay.com