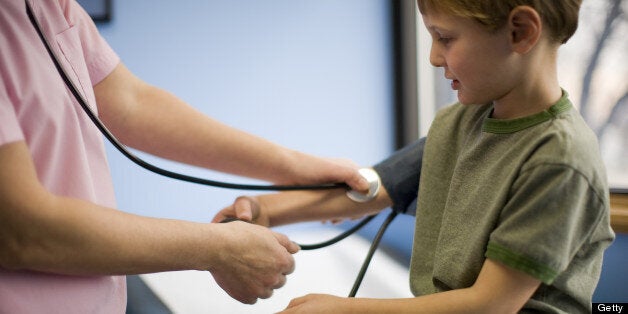 A pattern of rising blood pressure among children and young teenagers could be linked to salt, research has suggested.
Scientists in the US found that over the course of a decade, elevated blood pressure became 27% more common in young people aged eight to 17.
Sodium from salt-laden foods is known to be linked to high blood pressure.
A key finding from the study was that children with the greatest sodium intake were 36% more at risk of raised blood pressure than those with the lowest.
Over 80% of the participants consumed more than 2,300 milligrams of sodium a day, the researchers - who studied data from two surveys 11 to 14 years apart -said.
The recommended daily intake is not more than 1,500 milligrams.
"Everyone expects sodium intake will continue to go up," study leader Professor Bernard Rosner, from Harvard Medical School, said.
"It seems there's been a little bit of listening to dietary recommendations, but not a lot."
In adults, normal blood pressure should not exceed 120/80 millimetres of mercury.
Blood pressure in children varies according to age, sex and height, but the US surveys showed a clear upward trend.
The first included 3,200 children and took place between 1988 and 1994.
The second, with 8,300 participants, was carried out between 1999 and 2008.
Between the two, the proportion of children and teenagers with raised blood pressure increased by 27%.
Although some children had "elevated" blood pressure, they were not diagnosed with hypertension or high blood pressure which requires three high readings in a row.
High blood pressure is a major risk factor for strokes, heart disease and kidney failure.
The study, published in the journal Hypertension, showed that boys were more likely than girls to have raised blood pressure.
But the rate increased more sharply among girls.
More children were overweight in the second survey and both sexes, especially girls, had larger waistlines.
Doireann Maddock, senior cardiac nurse at the British Heart Foundation, said: "Although the children in this study were not actually diagnosed with high blood pressure, it's a real concern to see raised levels at such a young age.
"When unhealthy habits are formed in childhood, they can be hard to shake off.
"Teaching children about the importance of lifestyle at a young age is vital so they can learn to look after their hearts as adults.
"Being overweight and having too much salt in your diet is bad news for your blood pressure.
"Watching your waistline, being as active as possible and keeping an eye on your salt intake can help keep your heart healthy."