Updated 19:03, 15 July 2013 - Statement from the Channel Swimming Association
Arthur Wright described his daughter as "just wonderful" and said he had been left devastated by her death.
Susan Taylor, 34, was swimming under the guidance of the Channel Swimming Association, which officially authorises attempts, when she got into difficulty near the French coast on Sunday afternoon.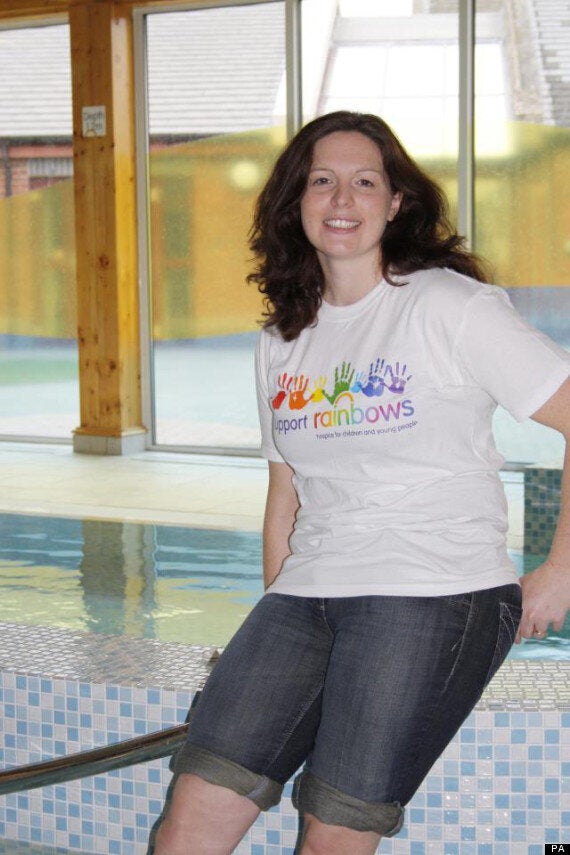 "The best person in the whole world"
She was taken to hospital in nearby Boulogne-sur-Mer where she was later pronounced dead.
Speaking at the family home in Barwell, Leicestershire, today, Mr Wright, 68, said: "I'm devastated. I've lost the best person in the world. She was just wonderful."
Mr Wright said his daughter had given up her full-time job to carry out charitable work and was working part-time as an accountant.
She had also done wing-walking and a parachute jump, and was a qualified rally driver.
"She was certainly not a boring accountant," he added.
Mr Wright revealed that his paramedic son David, Mrs Taylor's brother, was on the boat at the time of the swim and battled to save her life.
"David was with her and he was the paramedic, he tried to help. He pulled her on to the boat."
Also on the boat were Mrs Taylor's husband Stephen, her coach who had been training her since she was eight years old, and a support swimmer.
Mr Wright said he had been told the accident happened during the last leg of the swim, which Mrs Taylor had spent 18 months training for.
"She had swum 30 miles and she got to the last part and that's when it happened. That's as much as I know.
"They got her out the water and put her on the boat."
The family had celebrated Mrs Taylor's birthday and her brother's birthday at a restaurant last Thursday, he said. He last saw his daughter on Friday night.
"I saw her to say I hope it goes well and gave her a kiss."
Neighbours of Mrs Taylor paid tribute to her today in the quiet cul-de-sac where she lived with her husband, who is an electrician.
David Kitto, 63, said Mrs Taylor, who was raising thousands of pounds for the Rainbows Hospice for Children and Young People and Diabetes UK, was well-known for her swimming and charity work.
He said she would swim at nearby Hinckley Leisure Centre, Stoney Stanton Lakes and Bosworth Water Park. He said she was not anxious about the Channel swim.
"She was a confident person anyway. She had a real presence about her. She was not a shrinking violet but nor was she hogging the front pages all the time," he said.
"She was a very good swimmer; you used to see her going up and down in the fast lane at the pool and all the staff there knew her and got to know what she was doing."
He went on: "I'm just gobsmacked. She was a truly lovely girl and this is an absolute tragedy."
Mr Kitto said Mrs Taylor, who went to junior school with his daughter, and her husband had lived in Barwell for more than 10 years and married around six years ago.
Many of their neighbours were invited to their evening wedding reception at Ashby Road Sports Club.
Another neighbour, 47-year-old Chris Wheatley, said he thought Mr Taylor, who was not at the family home on Monday, would have been with her during her Channel swim.
Neighbours said Mrs Taylor was very sporty and used to do a lot of kayaking and mountain biking.
Kevin Murphy, secretary of the Channel Swimming and Piloting Federation (CS&PF), which also authorises and supports the attempts but was not involved with the swim, said he found out about Mrs Taylor's death when he was contacted by the French coastguard asking him for a telephone number for the captain of the boat.
He said: "It is incredibly sad. People in our organisation knew her. She had been our friend on the beach training in Dover and everyone's cut up about it because she was such a lovely, nice lady."
He said he got to know her at a training camp in Majorca in April when she completed a six-hour cold water swim.
He said: "Both organisations require medicals signed by a doctor and we both require swims of at least six hours before we will register anyone to swim the Channel.
"It's an extreme sport. We know it's an extreme sport but its safety record is second to none. In nearly 150 years there have been only half a dozen fatalities."
A statement from the Channel Swimming Association, which described Mrs Taylor as "a friend and fellow swimmer", said her death was a "tragic loss under valiant circumstance".
"Susan was one mile from France. She was known and loved by so many including those at the CSA of whom many knew her personally," the statement said.
Messages of condolence were left on Mrs Taylor's Facebook page, Create a Ripple Channel Swim, which she created to keep people up to date with her progress.
A message posted by a family member said: "Thank you for your messages of support. Please respect the family's privacy whilst they come to terms with what has happened.
"If you would like to leave a sign of respect please feel free to donate to her fund raising page."
The Rainbows Hospice and Diabetes UK also paid tribute to Mrs Taylor.
Geoff Ellis, chief executive at Rainbows Hospice for Children and Young People, said: "Susan was a wonderful woman who would do anything for anybody. She has been a much loved ambassador at Rainbows for over two years,.
"All of the children, young people, families, staff and volunteers at Rainbows are devastated and our thoughts and prayers go out to her family. She will be sadly missed."
Barbara Young, chief executive at Diabetes UK, said: "We are extremely sad to hear of the tragic death of Susan Taylor during her Channel swim, which she organised independently to raise funds for us.
"We have spoken to Susan's family and have offered our support and our heartfelt condolences. Our thoughts are with Susan's family at this sad time."
On her Virgin Money Giving fundraising page, Mrs Taylor said she was taking on a challenge "tougher than Everest" in one of the busiest shipping lanes in the world, with more than 600 tankers and 200 ferries crossing it every day.
Before her solo attempt she told the Leicester Mercury that her training had been delayed a little by a shoulder injury and that she had put herself "through hell" training over the last year.
The report said Mrs Taylor would be swimming in indoor pools and the Water Trust lakes at Market Bosworth for up to eight hours non-stop as part of her final training sessions.
She said: "The injury won't put me back too much and I plan to be back in the lake in a few weeks' time.
"It's a lot different in the Channel, though. You've got the waves and the salt water and it will be about twice as far as I've ever swum before."
Related