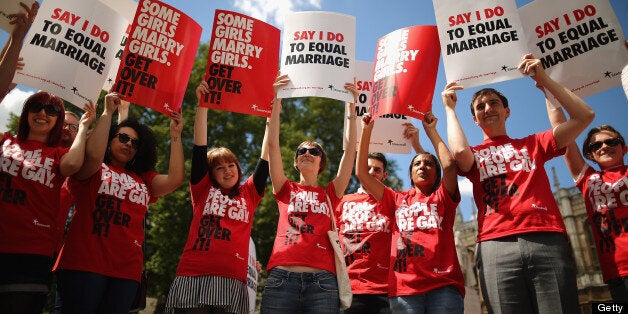 Gay marriage is now legal in England and Wales after the government's Marriage (Same Sex Couples) Bill was granted Royal Assent on Wednesday afternoon.
The passage of the historic piece of legislation, that split the Conservative Party down the middle, means gay couples will be able to wed from around the summer of 2014.
Peers approved the Bill on Monday and it was rubber stamped by MPs on Tuesday. News that the Bill had become law today was greeted with cheers in both chambers.
Culture secretary Maria Miller said "marriage is the bedrock of our society and now irrespective of sexuality everyone in British society can make that commitment".
"It is a wonderful achievement and whilst this legislation may be about marriage, its impact is so much wider. Making marriage available to all couples demonstrates our society's respect for all individuals regardless of their sexuality," she said.
"It demonstrates the importance we attach to being able to live freely. It says so much about the society that we are and the society that we want to live in."
Miller added: "This is a historic moment that will resonate in many people's lives. I am proud that we have made it happen, and I look forward to the first same sex wedding by next summer."
Speaking to a jubilant pro-gay marriage rally opposite parliament after the Lords voted in favour, deputy prime minister Nick Clegg thanked campaigners for "keeping politicians feet to the fire" to ensure the Bill was not derailed by opponents.
"Once what was felt, or considered, to be a radical will soon be the law of the land," he said. "People will look back on it and think, 'what on Earth was the fuss all about'."
"It should be entirely unremarkable and completely unusual that people who want to express their love to each other want to commemorate that love and want to celebrate that love regardless of who they are regardless of their gender regardless of their sexuality should be abel to do so on equal footing."
Stonewall chief executive Ben Summerskill said: 'It's impossible to express how much joy this historic step will bring to tens of thousands of gay people and their families and friends.
"The Bill's progress through parliament shows that, at last, the majority of politicians in both Houses understand the public's support for equality - though it's also reminded us that gay people still have powerful opponents."
And Labour's shadow equalities minister Yvette Cooper told MPs last night that the Bill was a time to "celebrate".
"As a result of this vote, same-sex couples will have the same recognition and respect from the state, and the same recognition under the law, for their relationship and their love," she said.
"Because marriage is about the ups and downs, the long-term commitment through thick and thin, so this is also about the right to grow old and grumpy together under the banner of marriage."
The Bill, despite having strong cross-party support, had a turbulent time in both the Commons and the Lords - with a significant number of MPs and peers voicing fierce opposition.
Opponents of gay marriage have warned gay marriage, which was personally promoted by the prime minister, would "come back to bite" Cameron. The Coalition for Marriage campaign group said it would mobilise a 700,000-strong support base in next year's European elections and the general election of 2015.