The idea of taking half your clothes off, lying on a table, and spreading your legs for a stranger can be a daunting prospect for anyone (unless it's 4am and you're at a particular kind of house party and that's totally your private business and we won't be pursuing that line of enquiry any further). But, as well as being daunting, the legs akimbo nudity is an essential part of going for a Brazilian wax. In the interests of helping you to not freak out about the whole thing we spoke to Chloe, head trainer at Ministry of Waxing to get her top tips for a trauma-free wax...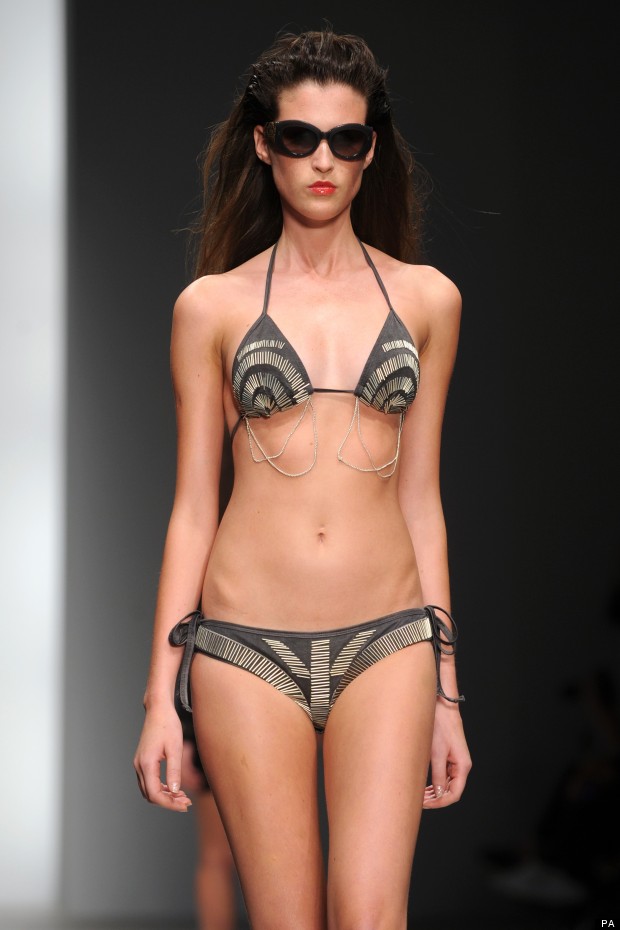 TL;DR? Take deep breaths and do exactly what you're told!
1. You know how you tried to strip wax your bikini line at home and it was horrific? Well that won't happen here...
"Legs are usually done with strip wax – with a Brazilian most good places will use a hard wax. The difference is that hard wax doesn't stick to the skin, only the hair, so there's no fear of the wax getting stuck as can sometimes happen at home."
2. Do exactly what your beautician asks you to...
"The best thing to do is to put yourself in the position the beautician says. Usually one leg bent and one leg straight so we can get into the bikini area. Most people will try to help you out when you're working and they tense when they sense I'm about to remove. That means every muscle is tense and it makes things worse. I tell them to take a deep breath in and then out. When they're breathing out I remove it because when you're breathing out you're not tense."
3. No, really, do EXACTLY what your beautician asks you to...
"It's not just about hair removal it's about aftercare and there are certain times you shouldn't have your waxing done – on your period, for example, you should wait for three days after or three days before. We have strict guidelines for the 24 hours after waxing too because your hair follicles are open for around eight hours. No swimming, no touching the area, no perfumed products..."
4. Paper pants are more hindrance than help...
"We don't do paper pants – the thing is if you have the paper pants you have to hold them to the side. With a Brazillian you're removing from the labia and the crack , just leaving a line on the pubic bone. If you keep the underwear on – we wear gloves and a face mask to prevent bacteria getting into the area – so if you're wearing paper knickers the customer would have to be touching her bikini area with her hands and that's not good hygiene. Hygiene is one of the most important things when you're getting waxing done."
5. Probably best not to go for a wax the day after a massively emotional leaving do...
"Waxing is more uncomfortable if you're stressed or tired or hungover or upset."
6. There are lots of urban legends when it comes to reducing waxing pain - find the placebo which works for you...
"I've heard them all! That bananas are good because of the iron - but paracetamol and ibuprofen are the most common ones. The thing is you don't have any pain when you take it so perhaps that's more psychological than real. I'm not a doctor so I don't know for sure. Alcohol – you get people in the evenings who've had a glass of wine – Dutch courage. And espresso coffee – I really don't understand that one!"
7. But there are two options for nervous waxees..
"Most of the time the fear of the unknown is worse than the treatment so at Ministry of Waxing we have squeezy toys [like stress balls] and Bach Flower Essence for really nervous customers."
8. You should definitely take the chance to ask questions...
"Everyone wants to know if they're normal. Everyone is completely different – there isn't a normal – but it can be nice to show somebody a private part and talk about it normally. We can answer any questions you might have, dispel the myths that are out there – it's nice. It's not something you can usually ask a friend at the pub – do you get ingrowing hair on your bikini area? – but when your beautician's there and you're laying there half naked... We have client confidentiality too so it's only going to stay in that room."
9. But stop confusing your beautician for a gynaecologist...
"There are certain [medical conditions] where we can see them and say no - severe skin conditions like eczema, psoriasis, broken skin. We can't wax over that. Also where we can see sores or warts. But when people start asking about specific problems we can't. If it affects whether I can wax I can say but other than that I can give my opinion of what I would do in the situation - basically if you're worried go to a doctor and get it checked out."
10. Share the good experiences as well as the horror stories...
"If you have a bad wax I think it usually takes around a year to come back to a salon, regardless of which salon caused the bad experience. There's also the situation where when you've had a bad experience you tell so many people so you could hear from friends or rumours that it's the most traumatic thing and not want to try it for yourself."