Bethany Lodge always hated her freckles. And then these little brown dots started becoming a big beauty trend for Spring/Summer 2013. Kinder Aggugini, Moschino and Henry Holland can't be wrong, right?

My face is in fashion. My actual face. Because I'm freckly, and freckles are going to be EVERYWHERE for SS13 after being liberally scattered across models' faces last September at London Fashion Week.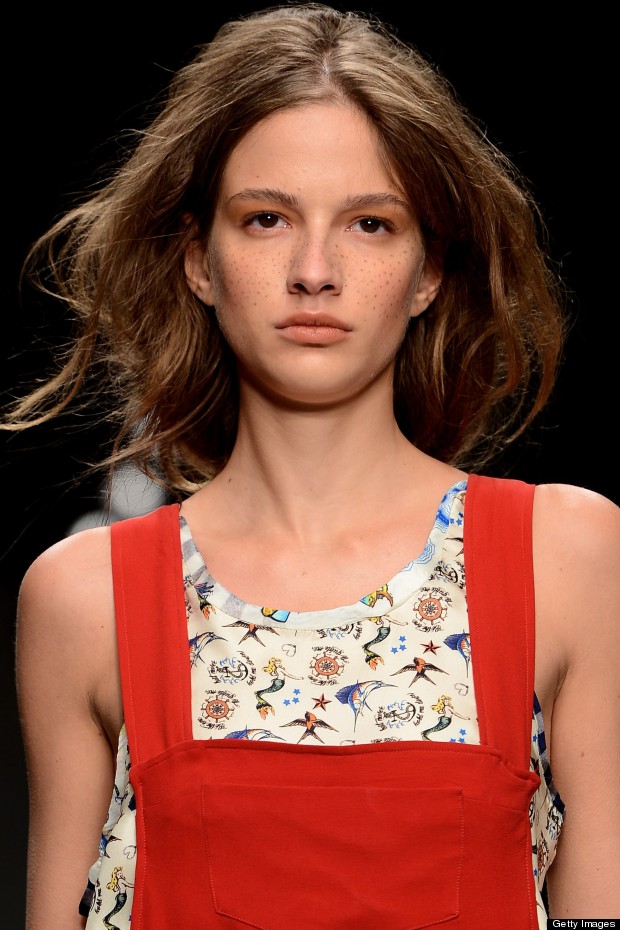 So these little spots of sun are stylish now, but trust me, they've not always been cool. As a little girl, I was told freckles were a sign of beauty or - in an elaborate tale told by my Grandma - that they were a gift from the "freckle fairy" who gave the most freckles to the prettiest girls.

But as I got older, I began to hate these brown spots all over my face, arms and chest and hoped they would fade in time. I've tried to cover them up with heavy makeup, fake tan and once even squeezed lemon juice over my face in an attempt to make them lighter (unsurprisingly, this didn't work).

So, what makes me dislike my freckles so much? Lots of things but part of it is that all of the people you see in films – the really, really glamorous people – always have clear skin. And the celebrities who do have freckles, such as Ke$ha, Emma Watson, Evangeline Lilly and Megan Fox? They have them airbrushed out. Reportedly, Nicole Kidman even had hers lasered off. Call me sensitive, but it doesn't make you think you've got something worth having.

The freckles trend could be an indication the fashion industry is broadening its definition of beauty and this is "very welcome", according to award-winning Make-Up Artist Sarah Brock.

"Heavy, powdered skin is now classed as dated and we are all encouraged to make our skin look fresher, dewier and more natural as we now know that this is what makes our skin look younger," she said. "As a part of this trend, freckles are now considered a sign of youth and healthy looking skin."

Alex Box, Creative Director of Illamasqua which has recently launched a collection celebrating freckled skin, added: "It is our so called flaws that make us unique. The beauty is in our differences, our imperfection is beauty."

For a freckle face, these are pretty exciting things to hear. And, the tables have kind of turned on people without them.

Not only were model's natural freckles allowed to shine through during LFW for SS13, but "faux" ones were even drawn on for Kinder Aggugini, Moschino and Henry Holland's shows. The message? That having these little dots are cool and absolutely not supposed to be hidden.

LOVE THIS WRITER? Follow her on Twitter @bethlodge.