The Australian Labour government has been accused of insensitivity after publishing gloating pictures showing asylum seekers looking distraught at being turned away from the country.
One press release, titled '81 Iranians get the new message' featured pictures of a woman sitting on the floor with her head in her hands.
It comes after Australian Prime Minister Kevin Rudd announced that any asylum seekers arriving by boat would be turned away and sent to Papua New Guinea.
Rudd claimed the move was aimed at preventing the number of 'boat people' killed trying to sail to Australia.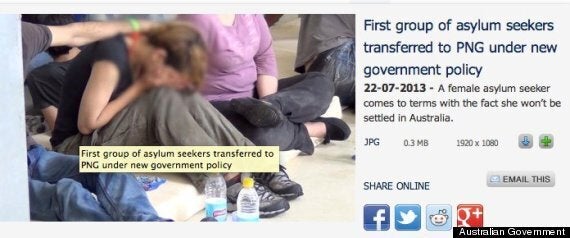 Sensitively done: The government press release
The immigration department's communications manager, Sandi Hogan, tweeted the pictures.
The Australian Green party's immigration spokeswoman Sarah Hanson-Young told the Sydney Morning Herald: "Today's vulgar display from the Department of Immigration ... truly is a move dredged up from the bottom of the barrel.
"It is shameful that this government is exploiting people's private despair for cheap political gain."