Carlo Ancelotti's first match in charge of Real Madrid saw them stroll to a stylish 6-0 win over Championship side Bournemouth at Dean Court on Sunday night.
Cristiano Ronaldo netted the first goal of the Italian's reign and added another before Sami Khedira scored on the stroke of half-time.
Bournemouth chairman Eddie Mitchell said this fixture was a reward for their long-suffering support, but some Cherries fans suffered some more, as many tickets for the friendly cost an extortionate £60.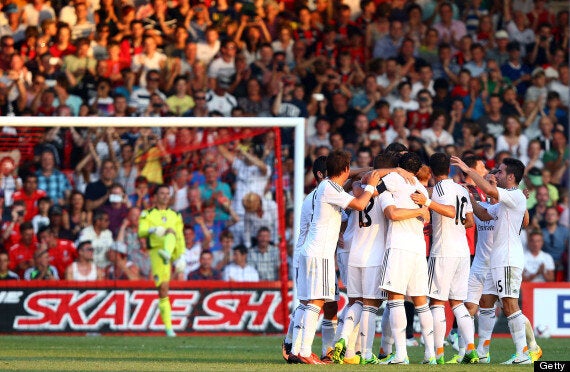 Madrid registered a comfortable victory
Arsenal target Gonzalo Higuaín, Angel di María and then Casemiro got in on the act.
Ancelotti, José Mourinho's replacement, included new signing Isco in his line-up and there was certainly enough household names in his first Madrid XI to keep the capacity crowd happy.
New midfield signing Asier Illarramendi, who cost £34 million from Real Sociedad, also made his first appearance in a Madrid shirt.