The King's Troop Royal Horse Artillery and the Honourable Artillery Company will both carry out the ceremonial salutes on Tuesday in honour of the new addition to the Royal Family.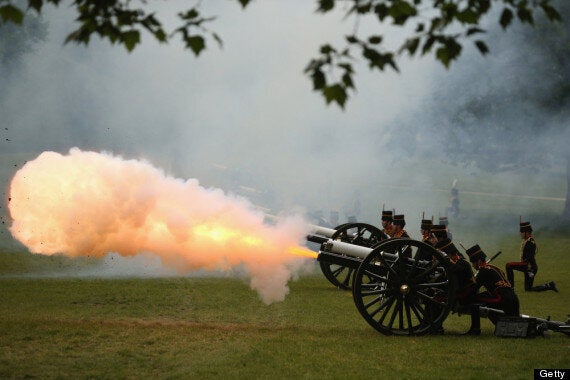 The King's Troop Royal Horse Artillery will stage the gun salute in Green Park
Gun salutes are fired for the birth of every prince or princess, no matter where their place is within the line of succession, the Ministry of Defence said. The last royal salute for a birth was for Princess Eugenie in 1990.
The King's Troop Royal Horse Artillery, wearing full dress uniform, will ride past Buckingham Palace to Green Park where they will stage a 41 royal gun salute.
They will ride from their forward mounting base in Wellington Barracks into Green Park, where 71 horses pulling six First World War-era 13-pounder field guns will place them to position for the royal salute at 2pm.
Each of the six guns will fire blank artillery rounds at 10-second intervals until 41 shots have been fired. The horses and riders will then collect the guns and escort them back to Wellington Barracks.
The Honourable Artillery Company (HAC), the City of London's Army Reserve Regiment, will fire a 62 royal gun salute from Gun Wharf at the Tower of London at 2pm tomorrow.
Whilst a royal gun salute normally comprises 21 guns, this is increased to 41 if fired from a Royal Park or residence.
Uniquely, at the Tower of London, which is a royal residence, a total of 62 rounds are fired as this also includes an additional 21 guns for the citizens of the City of London to show their loyalty to the monarch.
London mayor Boris Johnson said Trafalgar Square's famous fountains will be lit with blue lights for the next seven days in celebration of the royal birth.
"Huge congratulations to the Duke and Duchess on the birth of their first child who will, by virtue of being born in this great city, be a Londoner through and through," he said.
"I am sure millions of Londoners will be raising a glass today to toast this wonderful news."
London's Living Room at the top of City Hall will also use blue lighting over the next seven days to celebrate the royal birth.
Westminster City Council celebrated the announcement of the baby boy's birth with blue lighting in the fountains in Marble Arch and the Golden Jubilee bridge.
They will remain lit up until midnight tomorrow.
Leader of Westminster Council Philippa Roe said: "Just like everyone else around the country, we are obviously thrilled at the news. We also give a special welcome to our latest Westminster arrival and, of course, add our congratulations to the Duke and Duchess of Cambridge.
"We will be working with Kensington Palace to register the birth of the baby."
Popular in the Community