Raids on two high-security prisons in Baghdad are worrying proof of an al Qaeda resurgence in Iraq, a think-tank said on Tuesday.
Foreign affairs and defence think-tank the Henry Jackson Society (HJS) said there is a "very real jihadist threat" re-emerging in Iraq but western governments seemed unconcerned by the growing strength of al Qaida.
The group has claimed responsibility for coordinated raids on the prisons in Abu Ghraib and Taji, which freed hundreds of inmates and left more than 50 people dead.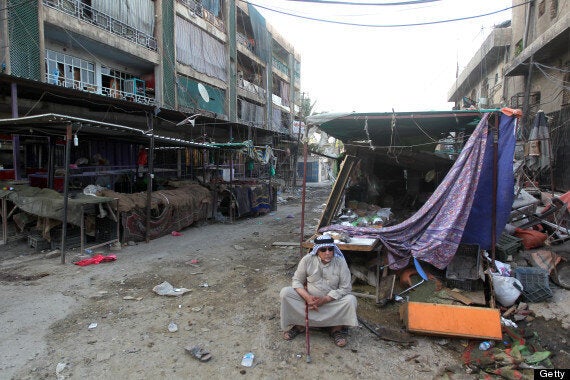 An Iraqi man sits at the site of a car bomb at a market in the Karrada district of Baghdad, on July 21
The Henry Jackson Society said today that it has been warning of a resurgent Islamic State of Iraq (ISI) for several years.
Terrorism analyst and HJS research fellow Robin Simcox said: "The West is suffering from Iraq fatigue, and the last thing the US wants to admit is strategic failure by acknowledging the resurgence of Islamic terrorism in Iraq.
"But as this prison break shows, there is a very real jihadist threat re-emerging in Iraq. The last time we in the West ignored such a threat, it was from Afghanistan.
"The withdrawal of American troops from Iraq means the US can only stand by while sectarian warfare rises and the ISI explicitly threatens the US, and while Iran secures ever greater influence in the region."
The attacks, which are the latest in a surge of violence in Iraq since April, have provoked criticism from opponents of the government's efforts to keep the country safe.
Iraqi officials said at least 25 members of the Iraqi security forces were killed in the attacks, along with at least 21 prisoners and 10 militants.
More than 500 inmates are believed to have escaped from the prisons which house thousands of inmates including convicted al Qaida militants.
Foreign Office minister Alistair Burt has condemned the attacks, saying it was "especially disturbing" they had taken place during the holy month of Ramadan.