One historian expressed surprise that the Duke and Duchess of Cambridge named their baby George, just like the last Prince of Cambridge.
Judith Rowbotham, a social historian at Nottingham Trent University, said that although George was a traditional royal name and the bookmakers' favourite, the personal life of the other Prince George of Cambridge caused a great deal of scandal.
"It's going to give some mileage for comparison," Dr Rowbotham said. "His personal life was not to the pace of the Victorians, but on the other hand he was a very good military commander and presided over a number of important reforms."
The selection of George, despite the particular historical implications linked to the Cambridge title and the use of just three names - George Alexander Louis - rather than four like both William and the Prince of Wales, or even seven like Edward VIII, had demonstrated a more modern approach, Dr Rowbotham suggested.
"It shows how determined they are to go their own way," she said. Lord Louis Mountbatten was killed by an IRA bomb
The first Prince George of Cambridge, who was born in 1819 and was a grandson of George III, did not seek the sovereign's approval when he wed actress Sarah Louisa Fairbrother, who was already the mother of two of his children and pregnant with his third.
The marriage was never recognised, hence his children were not eligible to inherit royal titles.
Miss Fairbrother, who generated considerable scandal - including having a portrait painted in which she showed off her bare legs - was ostracised by the royal family and never given a title, and became known by the nickname Mrs FitzGeorge.
George had a wandering eye and also had a mistress Louisa Beauclerk, who remained his lover for more than 30 years.
He went on to become the 2nd Duke of Cambridge after his father's death. He was promoted to Commander-in-Chief in 1887, and an equestrian statue of him stands in the middle of London's Whitehall.
Dr Rowbotham said Louis would be especially important to the baby's grandfather Charles, who was very fond of his uncle Lord Louis Mountbatten, who was assassinated by the IRA.
Louis was chosen as William's fourth name when he was born in 1982.
Dr Rowbotham suggested that Alexander could be a tribute to the Duke of Edinburgh's side of the family. The female version of Alexander - Alexandra - is also one of the Queen's middle names.
Royal commentator Richard Fitzwilliams said William and Kate were "undoubtedly" paying tribute to the Queen's father, George VI.
The name will also resonate with young people following Colin Firth's portrayal of George VI in the Oscar-winning film The King's Speech, he added.
"They have also picked a name that will resonate with young people," Mr Fitzwilliams said.
"The younger generation have seen the problems George VI faced when he became sovereign by the way Colin Firth portrayed him and how he overcame his stammer."
Historian and royal biographer Robert Lacey said he thought the choice of George as the baby's first name would give the Queen "great pleasure".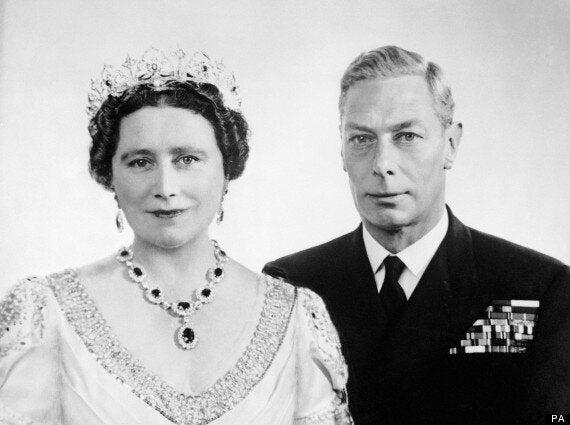 King George VI and Queen Elizabeth
Mr Lacey continued: "But even as we say that we have to remember that her father's actual name was Albert or Bertie - he chose the name George. We may find that Prince George could decide to give himself a different name as king.
"George was a natural favourite to judge from the bookmakers. They will have lost a lot of money, I think."
"Alexander is a surprise. I'm not aware of any other Alexanders," Mr Lacey said, adding: "Louis is obviously a tribute to Lord Mountbatten."
Mr Lacey, whose A Brief Life Of The Queen was published last year, said he did not think senior royals would have put pressure on the Duke and Duchess to choose the names.
He added: "Prince Charles said the other day he had no idea what it was going to be. My guess is that it was very much the choice of the mother and father, but I'm sure they would have checked it with the Queen."
Charles Kidd, editor of Debrett's Peerage and Baronetage, said George was a "very fine name", while Alexander would have been a personal choice of the new parents.
"George really speaks for itself, I'm really pleased," he said. "It's very traditional but it's also a very popular name now for young people naming their children.
"George is the name that features the most amongst the male line descendants of all our sovereigns if you tot up all the middle names as well, particularly since George I, the founder of the House of Hanover."
Alexander "would have been a personal choice, I should think", Mr Kidd said.
"Louis of course is a very nice tribute to Lord Mountbatten. It's one of William's own names and we know that Prince Charles was extremely close to his uncle."
Siobhan Freegard, founder of Netmums, said the name George means farmer or earthworker. A recent poll on the website found mothers believe children with the name are "loyal, honest, talented, independent - but with a rebellious streak".
"Alexanders are credited with being easy-going entertainers while Louis' are leaders - and can be highly intelligent," she added.
"When it comes to naming babies, royals are bound by certain protocol so you won't be seeing a Prince Tyler any time soon. The upper classes tend to stick to a set of traditional, safe, tried and tested names which this elegantly reflects.
"George is a classic choice in memory of the Queen's own father King George VI and William's great grandfather. It's popular, classless and solidly royal."