A Pakistani prime-time TV show is giving away abandoned babies in an apparent bid to boost ratings during the holy month of Ramadan.
Aamir Liaquat Hussain has so far presented two childless couples with babies on his Amaan Ramazan show.
In an episode broadcast last week, he showed an infant to the cameras, saying: "This is the beautiful girl who was thrown on a pile of garbage by somebody. See how beautiful and innocent she is."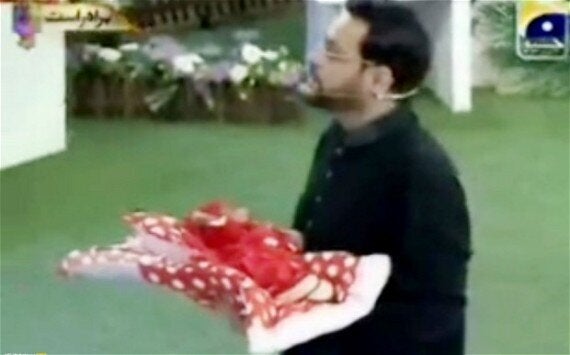 You've won... a baby! Aamir Liaquat Hussain cradles an abandoned little girl in a screenshot from an episode of Amaan Ramazan circulating online
The tearful wife described the baby as a "gift of Ramadan" as her husband recalled the couple's struggle to have children, the Telegraph revealed.
Chhipa explained: "We have lots of babies that are just abandoned, left in the garbage or other dirty places.
"Often we find just the bodies so our message that we make it to tell people to bring their babies to us, don't just leave them."
He did not give details on how the couples were vetted before receiving the children.
Pakistan's The News channel gave an account of the emotional scenes, which apparently brought tears to the eyes of everyone present, including Hussain.
"They [the parents] assured that they would leave no stone unturned to give her a better living and they would bring her up as their own real daughter," it said.
Bina Shah, a writer based in Karachi where the show is filmed, told the BBC: "First of all we look at the question as to whether a child's adoption should be publicised in such a manner. It is something that most people like to have a modicum of privacy about.
"So to give it airtime on national television for the sake of ratings for a television show seemed to me something of a violation of media ethics."
When asked about the legal issues of such a process, she replied: "There's been no answer from the show's producers as to whether or not they're actually following the legal procedures about adoption in Pakistan, which are rather a lengthy process."
Other giveaways on the show have included laptops, plots of land and washing machines, leading to it to be dubbed "the Islamic Price is Right," The Sun reported.
Viewers are also invited to telephone in and make donations to the country's less fortunate.
One commenter on the Defend Pakistan forum wrote: "The simple fact is I'm sure the babies are getting a better life... but those actions aren't being done with goodwill in mind rather than ratings."
According to the country's law, anyone found to have abandoned an infant can be jailed for seven years, the AFP reported in 2011.
During Ramandan Muslim families congregate each night to break their fast with a traditional iftar meal. It is during this period that TV ratings tend to soar - as do the efforts of presenters to increase their popularity.
Popular in the Community