One of the drivers of a Spanish train which derailed killing at least 80 people allegedly joked on Facebook on a previous occasion about speeding past police, according to reports.
With the official death toll still rising and more than 32 passengers including children in critical condition after yesterday's crash near the northwestern city of Santiago de Compostela, it is the country's deadliest rail disaster in almost 70 years.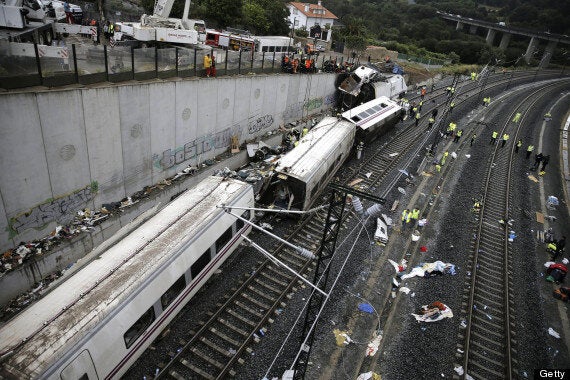 Spain has been shocked by the high death toll
Early investigations into the crash have suggested the train was travelling at 190 kmh (118 mph) - more than twice the speed limit - when it derailed heading into a sharp curve.
One Briton has been confirmed by the Foreign Office to be among the total of 168 injured passengers, with a full list of those who died expected to be made public at 10pm local time.
As the country mourned, Spanish media named one of the train's drivers as Francisco Jose Garzon Amo and reported boasts he allegedly posted on Facebook about how fast he was driving a train in 2012.
The 52-year-old, who together with a second driver survived the crash and is being treated in hospital for minor injuries, is now reportedly under investigation.
He allegedly posted a picture of a train speedometer at 200kmh (124mph). His Facebook page has today been blocked.
"What a blast it would be to go parallel with the Guardia Civil (Spanish police) and go past them triggering the radar. Haha what a fine for Renfe (the Spanish train operator) haha," he allegedly wrote in March 2012.
According to reports, one of the two drivers at the helm of the train realised what was about to happen before the crash and made a desperate call to Renfe ahead of taking the bend, saying: "I'm going at 190kmh, I'm going to derail."
In a second call to Renfe after the accident, he explained that he was trapped in the train's loco.
"We are human, we are human," he is reported to have said.
"I hope there are no dead because they would fall on my conscience."
Mr Garzon Amo is not believed to be under arrest but is expected to give evidence to a judge with access to the train's data recording "black box".
The grim task of identifying victims and their belongings continues
Many of those on the Madrid to Ferrol service would have been pilgrims travelling to today's St James' Day festivities, Santiago's festival to celebrate the disciple of Jesus whose remains are said to rest in a shrine.
The full horror of the disaster was revealed today in harrowing video footage of the moment the high-speed train derailed.
Posted on YouTube, the security camera footage shows the middle carriages of the Class 730 train smash into a wall before the loco careens onto its side.
With the dead being taken to a makeshift morgue set up in a Santiago indoor sports arena, Spanish prime minister Mariano Rajoy, who was born in the city, visited the crash scene and declared three days of national mourning.
"For a native of Santiago, like me, this is the saddest day," Mr Rajoy said.
He added that judicial authorities and Spain's Public Works Ministry had launched parallel investigations into what caused the crash.
Spanish officials said the speed limit on the section of track where the accident happened was 50mph.
Professor Roger Kemp, a Fellow of the Royal Academy of Engineering, said: "The big question is why the train was (reportedly) running at more than twice the speed limit.
"As the driver was leaving the high-speed line to join a much slower route before entering the station, there must have been at least prominent visual warnings to reduce speed, if not audible warnings and an electronic speed supervision system."
Prime Minister David Cameron wrote to Mr Rajoy today, saying: "People in Britain have been greatly saddened by this tragedy. Please pass my deep condolences to those who have lost loved ones and my thoughts and prayers to all those who have been injured."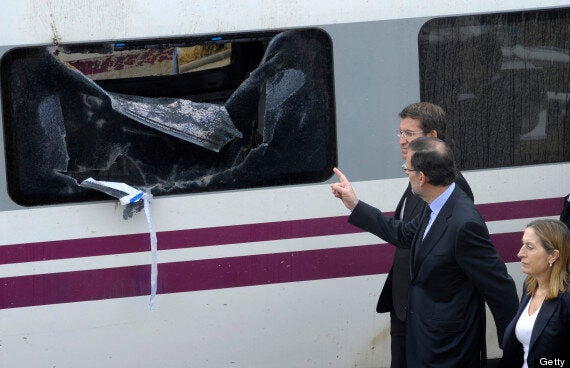 Spanish Prime Minister Mariano Rajoy inspected the scene of the crash
The derailment left a scene of devastation, with toppled and smashed carriages lying alongside the track, bodies being laid out beside the line, and bloodied survivors being carried to safety.
Alberto Nunez Feijoo, president of the regional government of Galicia, described the scene as "Dante-esque".
Lidia Cannon, who previously lived in the city and was visiting for the local fiesta, said she saw a woman who had lost a foot as a result of the train crash.
She told the BBC Radio 4 Today programme: "We heard a big bang, like, we thought it was an air crash, I thought it was a car crash, other people thought it was a bomb. It was very, very loud, the noise."
Ms Cannon said people went to help and told of one man's experience of visiting the crash site.
She said: "He couldn't cope with it. He said he was there 20 minutes but he took out a man that was asking for his wife and his wife was inside, dead. A boy was looking for his girlfriend and she was inside the train, dead."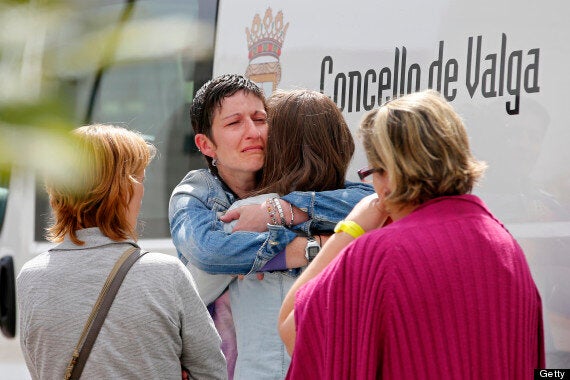 Relatives will want answers to why so many lost their lives
Yesterday's train crash is the worst Spain has experienced since a three-train accident in a tunnel in the northern Leon province in 1944.
Due to heavy censorship at the time, the exact death toll for the Torre del Bierzo disaster has never been established.
The official figure was given as 78 dead, but it is thought that as many as 250 may have been killed.
There was another serious accident in Spain in 1972 when a Madrid to Cadiz express collided head-on with a local train on the outskirts of Seville in the south west of the country. A total of 77 people died, with more than 100 injured.
The Madrid train bombings of March 2004 produced a death toll of 191- but this was a terrorist outrage and not an accident. There were 10 explosions aboard four commuter trains, with the attacks being directed by an al Qaida-inspired terrorist cell.
The latest incident comes less than two weeks after six people were killed and scores injured in a train crash just south of Paris.