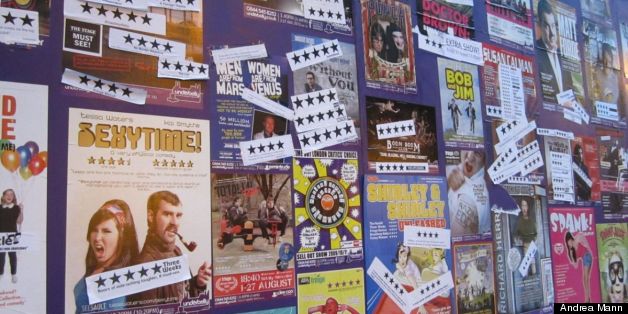 Andrea Mann
Navigate your way through the comedy behemoth that is the Edinburgh Fringe Festival with our round-up of the critics' choices (so far)...
The recommended comedy picks of unofficial Edinburgh Festival bible 'The Scotsman' include Australian comic (and HuffPost UK blogger) Felicity Ward, Chortle's Best Newcomer 2012, Pat Cahill, sketch trio Jigsaw and the winner of last year's So You Think You're Funny? award, Aisling Bea.
Bea and Cahill also feature in Time Out's Top 10 Newcomers list, along with 'Austentatious' star and musical funny person Rachel Parris. Time Out has also rounded up its Top 10 International Acts (who include big-name Americans Bo Burnham and Tig Notaro), Top 10 Free Fringe Shows and Top 10 Big Names And Festival Favourites. Its choices for the latter include veteran comedy producer - but stand-up newcomer - John Lloyd, TV/radio favourite Adam Buxton and 2012 Edinburgh Comedy Award nominees James Acaster, Claudia O'Doherty and Tony Law.
The Guardian also chooses Notaro and Burnham for its selection, along with Bridget Christie, Pajama Men, Thrice, Humza Arshad, Will Franken and Sanderson Jones and Pippa Evans' Sunday Assembly. The Independent's top three festival comedy picks, meanwhile, are Felicity Ward, her fellow Aussie Josh Thomas and David Baddiel - whose 'Fame: Not the Musical' is his first full Edinburgh show in 15 years.
Comedy website Such Small Portions is also producing lists of Edinburgh ones-to-watch - including, thus far, the Ten Best Debut Hours (again, Cahill, Bea and Parris feature) and Five Acts On The Up: Jessie Cave and Jenny Bede, Fin Taylor, Tommy Holgate, Kieron Hodgson and One Of Us Might Be Famous - a show starring three of four featured comics every night.
And if you're heading up to Edinburgh, you could do worse than purchasing a copy of Such Small Portions' Secret Edinburgh guidebook, which is full of tips from over 160 comedians. Hopefully one of them is 'get an hour of sleep whenever you can'. Because there's an awful lot of shows to pack in when you're awake...
The Edinburgh Fringe Festival runs 2-26 August. You can book tickets for all the shows mentioned above - and more - on its official website.